Inside The Fitness Fanatic Obama Family, Even The First Dog Is On A Diet!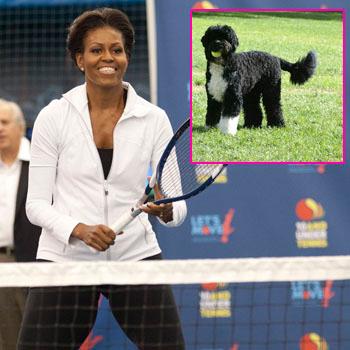 By Debbie Emery - RadarOnline.com Reporter
Who ate all the kibble?
Life as the First Dog isn't all fun and games, as Bo Obama has found out after he recently piled on too many puppy pounds.
When President Barack Obama made a surprise appearance at the White House's first "kids state dinner," hosted by wife Michelle on Wednesday, he surprised the young diners by revealing that Bo is on a diet and begged them not to feed him any fattening treats.
Article continues below advertisement
"I only have one request for you, and that is try not to drop any scraps on the floor," Obama told the group of assembled junior chefs in the East Room, reported U.S. News & World Report. "Because Bo... Bo is on a diet right now and he will eat anything that he sees, especially some of the tasty meals that you guys have prepared."
The curly haired 3-year-old Portuguese water dog has been getting a little thick around the middle and he has now become the latest recruit in the Obama's fitness obsession, which recently included Michelle telling Olympic gymnast Gabby Douglas not to eat an Egg McMuffin.
The First Lady has been actively trying to get the country onto a nutritious path and told the young chefs who had won a nationwide recipe competition that the dishes they created proved that fun eating can be "healthy and tasty at the same time."
The event was the latest effort in Mrs. Obama's Let's Move campaign to combat childhood obesity with more exercise and a better diet. "The physical and emotional health of an entire generation and the economic health and security of our nation is at stake," she announced when launching the plan in February 2010.
Article continues below advertisement
Both Michelle, 48, and Barack, 51, are avid exercisers and reportedly bounce out of bed at 4:30 a.m. each morning to work up a sweat together in the gym.
After Barack took office there was excited speculation about what kind of dog the family would pick, and Bo was first introduced by the Obamas in April 2009.
"I finally got a friend," Barack joked. "It took a while."
As daughters Sasha and Malia played with Bo on the grounds, the First Couple informed press that he would have several options to where he rests his little head but "not in my bed," according to the President. "We want to make sure that we are responsible dog owners and everyone else is too."