Gabby Douglas Takes Tonight Show Victory Lap Alongside First Lady Michelle Obama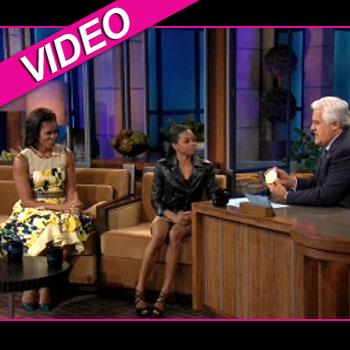 In her appearance on The Tonight Show Monday, Gabrielle "Gabby" Douglas, showed off her gold medals to host Jay Leno and fellow guest, First Lady Michelle Obama, opened up about her meeting with Kate Middleton, and laid out her future plans.
"I don't even deserve to hold this," Leno joked as he handed back the gold medal to Gabby, who became the first African-American woman to win the all-around gold in women's gymnastics at the 2012 Olympics.
Article continues below advertisement
Gabby said her run-in with the elegant Kate "was definitely an exciting experience," and that her fellow gymnast Aly Raisman "told Kate she liked her fashion, and she was like, 'Well, I love your leotards!'"
While quite media-savvy and charming, the young gymnast did have one faux pas in the jubilant appearance: admitting to eating McDonald's breakfast sandwiches after her win -- alongside healthy eating maven Michelle.
"You're setting me back, Gabby," the beautiful first lady told the resilient teen.
The 16-year-old Douglas, who wore a gold metallic skirt and black leather jacket in the appearance, said she's "definitely" planning on another Olympic run in 2016, when the Summer Games will be held in Rio de Janeiro, Brazil.
Of the attention she's receiving since taking home the gold, Gabby said, "I think it's very different, and when I mean 'different,' it's in a better way -- I mean, I never thought I would be doing the show with the first lady, or even you, Jay!"