Gabby Douglas: Olympics Is Not A Beauty Pageant, Slams People Criticizing Her Hair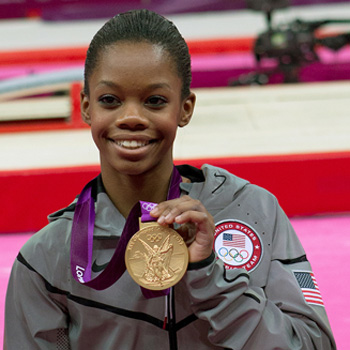 Gabby Douglas says she's too busy focusing on winning Olympic gold medals than to be overly concerned about how her hair looks and her critics have "no idea what they're talking about."
There has been a firestorm around the 16-year-old's scraped back ponytail with many hitting social networking sites to claim that she is not representing her culture by not having a slicker 'do.
However, the fiery teen told Us Weekly that she does take pride in her appearance but that the nature of gymnastics means that she cannot be primping and preening before she hits centre stage.
Article continues below advertisement
"You sweat and all the gel and hairspray comes out," Gabby said. "Even if we did fix our hair our coach would be like, 'This is not a beauty pageant! Leave it alone.'"
"There's no bathroom. We rotate from event to event so there's no time for them to say, 'Representing the USA, Gabrielle Douglas' and me to say, 'Yeah, thanks!' as I'm brushing my hair. It's like, come on."
Much of the criticism about the two-time medal winner has come from within the African American community, which Gabby said is "so disrespectful!"
"I'm not thinking about that," she added. "I'm thinking about bringing a gold medal home."
Gabby's mother Natalie Hawkins has also defended her daughter calling the naysayers "ignorant" and asking if they are "trying to ruin her self confidence."
But for as many critics, Gabby's self-assurance and winning smile has won her a legion of new fans including Gabrielle Union and Serena Williams who have showed their support.
Article continues below advertisement
Gabby's parting words are for people to "focus on the positive stuff."
"People don't realize how much that can impact someone. You don't want to joke around about something like that because that can really hurt a person and impact their lives."
RELATED STORIES:
Lauren Scruggs Breaks Silence On Today, Gabby Douglas Surprises With Cameo
Olympic Gymnast Gabby Douglas' Triumph Over Tears After Dad Recently Arrested
Family Heartache Behind Gabby Douglas' Olympic Golds, 'My Dad Left Us'
Gabby Douglas Wins All-Around Gold in Women's Gymnastics