They Ate What? Olympic Athletes Reveal Their Pig-Out Secrets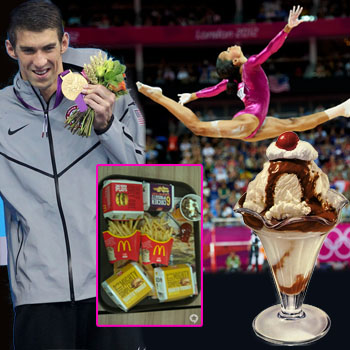 By Debbie Emery - RadarOnline.com Reporter
After spending the past four years focused on their diet and training regimens, Olympic athletes deserve to indulge once their competitions are over.
And while we've seen that many opt to hit the bar and consume their calories in liquid form by getting wasted, many other contestants are equally as excited to hit the fast food drive through! RadarOnline.com has compiled a mouth-watering menu of what the stars of the 2012 Olympics are craving.
Article continues below advertisement
Too impatient to even find something yummy to eat, 100-meter hurdles silver medalist Dawn Harper could't wait to get her hands on pure fat! "I want something bad,'' Harper told TODAY.com. "I will find grease and dip my finger into it.''
When she finally returns home to St. Louis, Missouri, the 28-year-old has warned her family that they have to get into the holiday spirit very, very early. "I told my family I want a Thanksgiving meal prepared, with all the fixings." First on the menu, however, is dessert for dinner. There is no Cold Stone Creamery in London, so Dawn is willing to settle for Pinkberry.
Swimmer Matt Grevers, who picked up a gold medal in the 100-meter backstroke and a silver in the 4x100-meter freestyle, shunned British food and stuck to an American classic to indulge in as well. "I went to McDonald's and had a vanilla milkshake,'' he said. "It was delicious."
Fellow swimmer (and the proud owner of 22 Olympic medals) Michael Phelps has denied rumors that he used to chow on 12,000 calories a day, but was not bashful about his blowout meal once he was done in the pool. "Finally!!!! The end of season celebration dinner! mcdonalds!! Yes all for me!" he tweeted.
Article continues below advertisement
Gymnast John Orozco didn't hold back in his performance or his pig-out. After following a very strict diet of of protein, lean meats and salad leading up to the games, he went all out as soon as he was done. "I had pizza, chicken nuggets from McDonald's, and I had a big cookie,'' he confessed, revealing how he suffered for his sins. "That was it for me. After that my stomach was destroyed."
Others prefer to indulge their sweet tooth rather than a fast food fascination. "I love fatty desserts," Nathan Adrian, who swam on the silver-medal-winning 4-by-100-meter freestyle relay, told the Wall Street Journal. He can't resist milk with warm "Funfetti," a home-baked white cake stuffed and topped with rainbow sprinkles. Meanwhile, gold medalist Missy Franklin prefers regular ice cream sundaes topped with Gummi bears.
U.S. shooter Jamie Gray kept her cravings simple – steak, and a lot of it. "I'm a healthy eater, normally,'' she said, but after winning the gold in the 50-meter rifle three-position. "I went to the USA House and had a nice rare steak. It was awesome. They didn't have it in the buffet so the chef made it and brought it out himself.''
Gymnast Aly Raisman opted for everyone's favorite comfort food – pizza – while her teammate Gabby Douglas went with the more exotic option of Mongolian grill, and Mexican-born distance runner Leo Manzano just wants his mom's flour tortillas.
Article continues below advertisement