Michael Phelps & New Girlfriend Megan Rossee Make First Red Carpet Appearance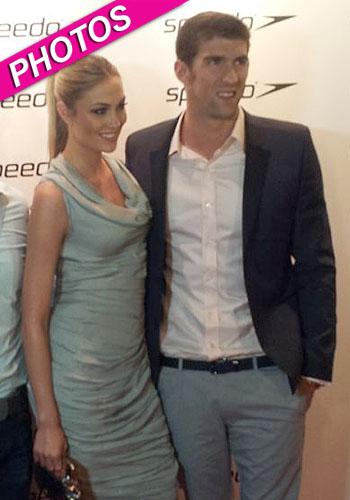 Article continues below advertisement
"Michael is like a puppy dog around Megan -- he's completely in love with her," an insider said. "However, like any young girl hoping to make it in Hollywood, she's ambitious and knows that by associating herself with Michael, she will get a lot of press herself.
"She's desperate for her own fame -- her career has been a slow-burner, but this will certainly accelerate it."
An insider said Phelps is infatuated with the 5-foot-9 model, leading pals to worry he'll be heartbroken if the relationship falters.
"He took her to the Olympics at a time when he was trying to become the most decorated Olympian of all time -- that's how much she means to him," an insider said. "Michael adores everything about Megan: She's athletic, makes him laugh and she's obviously drop dead gorgeous.
"But what happens when the buzz of the Olympics dies down and life goes back to normal? Will she want to date a retired swimmer?"
Article continues below advertisement
After taking a gold in the 4x100-meter medley relay Saturday, the all-time winnings Olympian ever wrapped up his career with an amazing 22 medals -- 18 of them gold -- in 51 races over four competitions.
"I've been able to do everything that I wanted," the hunky Phelps said at a press conference. "If you can say that about your career, there's no need to move forward.
"Time for other things."
RELATED STORIES: