Exclusive
Michael Phelps' New Girlfriend Is Another Cocktail Waitress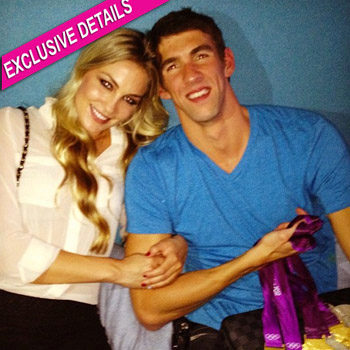 Article continues below advertisement
"Michael and Megan have been an item since January," a source said. "He met her in Blok nightclub - and despite advances from Paris Hilton's ex Doug Reinhardt, she chose Michael.
"Megan thinks Michael is very funny, kind-hearted, loves hanging out with him and is just as athletic. She loves to keep in shape, so they have a lot in common.
"She was with him in Omaha, cheering him on at the Olympic trials and has been playing the part of devoted fan and girlfriend.
"Michael was desperate for her to see more of the world, so he decided that she should join him in London for the Olympics.
"He's also hoping that eventually she quits her nightclub job to go full-time on her modeling career. He hates that she still works at Blok.
"Michael is completely besotted with Megan and now that he's retired is even thinking of popping the question," the source revealed.
Phelps, 27, made history at the London 2012 Olympics when he became the most decorated Olympian of all time with 22 medals.
Article continues below advertisement
He also holds the all-time record for gold medals – 18 – double that of the next highest record holders.
It isn't the first time Phelps has fallen for a cocktail waitress. In 2008, the swimming champ dated Caroline Pal, a waitress at the Palms Casino Resort's Moon Nighclub in Las Vegas.
They met after his record-setting performance in Beijing in the same year – but there relationship soon fizzled out.