Behind The Gold Medals: Chinese Children Cry During Brutal Olympic Training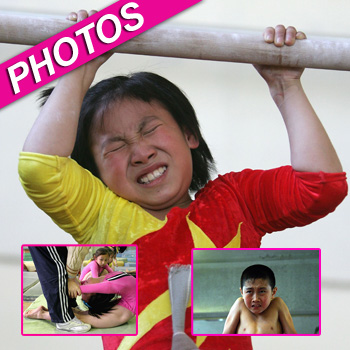 By Debbie Emery - RadarOnline.com Reporter
The Chinese are currently in the lead in the Olympic medals race, and RadarOnline.com has shocking new photos showing their young aspiring athletes screaming and crying in anguish during hardcore training sessions that could reveal the secret to their success.
After taking home gold in the men's team gymnastics on Monday, many are marveling at how the Chinese competitors can be so much faster, stronger and fitter than their western rivals, and the roots of their success can now be seen to span back to a very early age.
Article continues below advertisement
PHTOS: Take A Look Inside The Brutal Chinese Olympic Training Regime
Many aspiring Olympians are in the gym for up to eight hours a day, six days a week, and according to teachers, they don't get any holiday because a break from training for even a month would make the youngsters rusty, reported the Telegraph.co.uk.
In the Yunnan Province, children as young as four train for hours every day as they grimace in pain holding handstands, contort into distorted positions, or grip tightly to bare metal bars, unable to hide the agony in their little faces.
At the No. 2 Beijing Shuangqiao School, the youngsters practice on the uneven bars until they have blisters on their tiny hands, with many of them staying at the school for at least five years before they can emerge as athletes.
There has been increasing outrage during recent years over the conditions of these children, who are forced to live and breathe gymnastics, many of whom are boarded at the training center away from their families, such as Yang Yilin, who couldn't even say if her parents were watching when she won bronze in the 2008 Olympics.
Article continues below advertisement
Life is just as tough for swimmers, who spend hours in the pool at the Chen Jinglun Sports School in Hangzhou, China, where the "Mandarin Mermaid" Ye Shiwen was trained.
The 16-year-old literally blew the competition out of the water when she not only took the gold medal in the 400m individual medley but also knocked a second off the world record and was faster in the last 50m than Ryan Lochte was in his race the same day.
Ye's teammate, Lu Ying, spoke out about China's strict training regimen in a rare act of defiance. "In China we're used to study, study and train, train and then rest," the 23-year-old, who relocated to Australia in 2008, said via an interpreter at a press conference following her race on Sunday.
"I think our way of thinking has many limits. In Australia I've been invited to barbecues with my teammates - that would never happen in China."