'Living Legend' Usain Bolt Sprints His Way Into The Record Books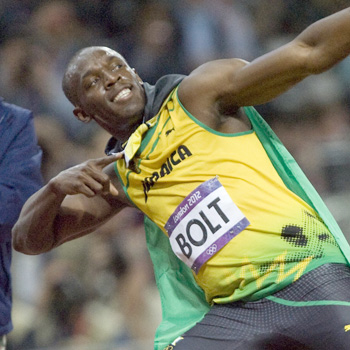 By Debbie Emery - RadarOnline.com Reporter
Jamaican sprinter Usain Bolt lived up to his legacy as 'World's Fastest Man" on Thursday when he became the only man in Olympics history to successfully defend both the 100-meter and 200-meter gold medals.
Passing the finish line of the 200 meter in just 19.32 seconds, the 25-year-old runner even had enough of a lead to slow up over the last few strides and put his left index finger to his mouth to tell any critics to "shush."
Article continues below advertisement
Bolt was followed across the finish line by teammates Yohan Blake getting the silver in 19.44, and Warren Weir in 19.8 seconds, meaning that Jamaica claimed all three medals in the race.
Despite a speed that smashed his competitors, the cocky athlete had enough energy left to drop down onto the track after the race and do five push ups - one for each of his Olympic gold medals so far, reported ABCNews.com, before bending down to kiss the track.
Bolt's boasting that his goal in heading to London was to become a "living legend" rubbed many people the wrong way and had him dubbed as arrogant. "Let him participate in three, four games, and he can be a legend," International Olympic Committee President Jacques Rogge said before the 200 meter final, admitting that: "Already he's an icon."
Bolt joins U.S. runner Carl Lewis as the only two men in history to win back-to-back 100 golds. Lewis pulled off the feat in the 1984 Los Angeles and 1988 Seoul Games, when rival Ben Johnson was disqualified after failing a drug test.
Article continues below advertisement
"The guy is just on another planet right now," Wallace Spearmon, the American who finished fourth in 19.90, said of Bolt between sobs of disappointment after Thursday night's race.