Ryan Lochte Just One Year Before The London Olympics: Curly Locks, Pimp Cups & Partying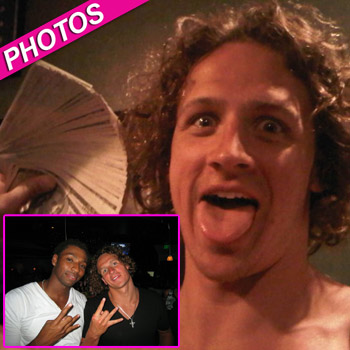 By Amber Goodhand - Radar News Editor
Just one year before Ryan Lochte was a clean cut frat boy gunning for gold as an Olympic swimmer, he was a pimp cup toting, curly haired, gang sign throwing party guy — and RadarOnline.com has the photos to prove it.
Lochte, 28, started the Olympics with a bang, beating swim favorite Michael Phelps in the men's 400 meter individual medley and earning the USA its first gold medal.
Article continues below advertisement
But despite all his hard training, the Florida resident took plenty of time off last summer to party with friends, sip on Grey Goose vodka, hob-knob with celebrities at Fashion Week in New York, and obnoxiously flash his wads of cash and pimped out Chevy Tahoe on his Facebook page.
Deemed one of the Olympics hottest athletes this year, Lochte's come a long way from his summer 2011 photos, and even has his eye on actress Blake Lively!