Ryan Lochte Confesses To Crush On Blake Lively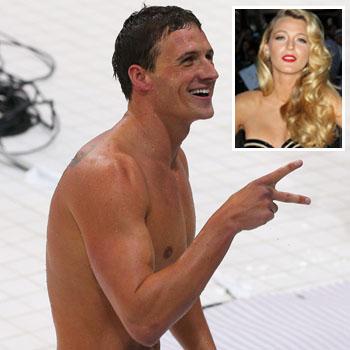 Look out Ryan Reynolds!
Blake Lively has a new admirer and he comes in the form of hunky Olympic swimmer, Ryan Lochte.
The sexy sportsman spilled his secret to CNN anchor Piers Morgan when he was asked what women he would like to spend the rest of his life with.
"Right now, Blake Lively," said the five time gold medalist who turned 28 on Friday. "She is gorgeous."
While he hasn't met the Gossip Girl beauty he's already thought of the chat-up line which will win her over.
Article continues below advertisement
"I would be like, 'Hi', I'd be like. 'You want to go to an island with me?'"
Lochte's mother, Ike, has had a hand in creating her son's lady killer persona after making reference to his romantic antics on NBC's Today.
"He goes out on one-night stands," she said. "He's not able to give fully to a relationship because he's always on the go."
However he cleared up her comments saying he's looking for a wholesome girl.