Olympians Gone Wild! 10 Athletes Getting Wasted At The Summer Games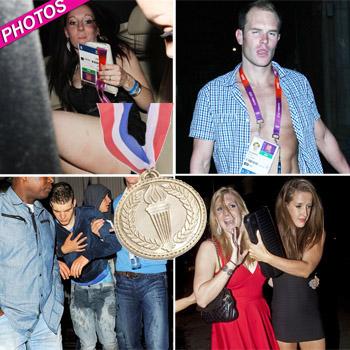 By Debbie Emery - Radar Reporter
After they have hit the track, field or the pool for their respective competitions, many Olympians hit the bar to celebrate a win, commiserate a loss, or just simply party!
Unfortunately the strong British beer and lively pub culture has proven too much for some of the athletes -- who are used to a healthy lifestyle of downing protein shakes not pints -- and RadarOnline.com has hilarious photos of the biggest boozing casualties.
Article continues below advertisement
Swimming sensation and gold medal winner Ryan Lochte was lucky enough to celebrate his 28th birthday in London on August 3. Instead of embracing the local culture, he threw a bash a few days later with teammates at cheesy American chain Planet Hollywood, from which he emerged looking very bleary-eyed and worse for wear.
Australian rower Joshua Boot ended his night on the town with more than just a killer hangover to worry about. The 21-year-old was arrested for allegedly damaging a shop window last week after he and teammates licked their wounds for failing to win a medal by getting wasted. Back at the local police station in Surrey, England, Boot fainted (or blacked out!) hitting his head and had to be treated in hospital.
Belgian cyclist Gjis Van Hoecke avoided landing in jail but he did manage to soak, and then almost lose his pants, after he left London's Mahiki nightclub. The 20-year-old's teammates proved that camaraderie doesn't end when their competition does by literally carrying him semi-comatose out of the bar into a waiting cab.
South African swimmer Jean Basson is used to stripping off in the pool and drunkenly decided to do the same at Chinawhite night club by ripping off his shirt. Sadly the security guards didn't appreciate his sculpted six pack and decided to escort him out.
It's not just the men that burn the midnight oil when they are done competing, British bronze medalist swimmer Rebecca Adlington was in high spirits when she left the Speedo party, despite a bloody cut on her foot and her friend's supportive arms preventing a fall.
For all the Olympics party aftermath, check out our gallery of drunken disasters here.