First Female Saudi Track And Field Runner Loses Race But Makes History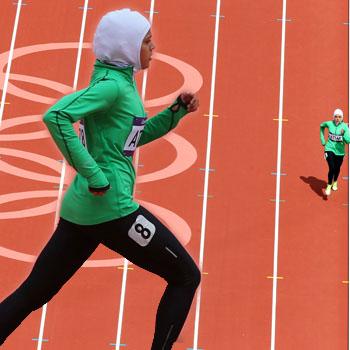 By Debbie Emery - Radar Reporter
It's not the winning but the taking part that counts, and that couldn't be more true for Saudi Arabia's first female athlete to compete in an Olympics track and field event.
Sarah Attar finished last and more than 30 seconds slower than her nearest competitor on the women's 800 meter race on Wednesday, but she was still welcomed across the finish line with a standing ovation from the crowd in London.
Article continues below advertisement
As the other athletes ran in cropped tops and shorts made from skin-tight performance material, the 19-year-old was covered from head-to-toe in baggy workout wear and a hood that only let her smiling face poke out.
"This is such a huge honor and an amazing experience, just to be representing the women. I know that this can make a huge difference," said the art student who trains at Pepperdine University in Malibu, Calif., reported the Guardian.co.uk.
As Attar's mother is American and her father is Saudi, she has duel citizenship and was actually born in California but chose to represent the Middle Eastern country (where she has spent little time) rather than the more competitive U.S. as a way of inspiring women there, who will finally be allowed to vote in 2015.
"For women in Saudi Arabia, I think this can really spark something to get more involved in sports, to become more athletic," said the runner, who finished her debut in the games in 2 minutes, 44.95 seconds. "Maybe in the next Olympics, we can have a very strong team to come.
Article continues below advertisement
"Seeing the support like that, it's just an amazing experience," said Sarah about her overwhelming following. "I was so excited to be a part of it. I really hope this can be the start of something amazing."
After giving in to pressure from the International Olympic Committee, Saudi Arabia became one of three Islamic countries, along with Qatar and Brunei, that brought female athletes for the first time, making this the first Olympics in which every national team includes a woman.
Attar followed in the footsteps of her teammate Wojdan Shahrkhani, who became the first Saudi female competitor in any Olympics when she made her debut in the judo arena on Friday but sadly didn't get such a warm reception for her valiant efforts at the games. Shahrkhani raised the scorn of the kingdom's Islamic clerics, who said she dishonored herself by fighting in front of men, including the male referee and judges.
Article continues below advertisement
Rather than getting caught up in a similar political firestorm, Attar is just trying to enjoy her once-in-a-lifetime experience. "She's a kid," said coach and former Olympic champion Joaquim Cruz. "She's 19 years old and this is like going to Disneyland for the first time. Everybody else is concerned about the press, the media, what people are going to say. She's just taking a ride."
Attar normally trains as a long-distance runner but because she's not among the world's elite, the decision was made to have her run in the shorter race. "She was thrown into the fire with the change of events," explained Cruz.