Cruel Taunts And Grueling Workouts, Tough Childhood Of Chinese Olympic Swim Champ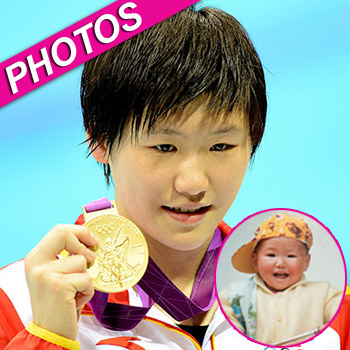 Article continues below advertisement
Ye's parents opened up after their 16-year-old daughter shattered both the world record in the 400 individual medley and her own record in the 200M on Tuesday, revealing how she often calls them in tears on her pink mobile phone during grueling training sessions, reported the MailOnline.
"Many times she has been turned away from the female changing rooms because she is mistaken for a boy. She likes to wear her hair short, to avoid as much as possible having to wear a swimming cap," said her father, Ye Qingsong.
PHTOS: Take A Look Inside The Brutal Chinese Olympic Training Regime
When she was born, even her parents thought they had a new son! "Her first cries were so loud and clear, I was convinced the baby must be a boy," said her dad. "But I was very pleased to have a girl."
Originally from Hangzhou, Ye learned to swim when she was three and at the age of six she joined the elite Chen Jinglun Sport School training program and has dominated the competition world ever since.
Article continues below advertisement
"She was very competitive and liked challenging older swimmers. This was at odds with her character outside the swimming pool, which was bashful and reserved."
Even her personality was more tomboyish than girly, revealed her parents. "She wasn't very delicate. When playing, she would fall down but she wouldn't cry. She had great strength and huge hands, even for a child. By the age of six or seven, she could do 20 pull-ups."
However, with such phenomenal success comes huge struggles, especially for someone so young. "Last year, when she was high-altitude training in Yunnan Province, she called home in tears," said her father. "She had struggled to acclimatize to the altitude. She was crying because she was performing poorly. We just told her not to push herself too hard, but it was very difficult."
Just like most regular young girls, Ye went through teenage angst and gave her mom and dad the cold shoulder. "When she was 14 and 15, she went through a stage where her hormones were acting up and she was very anxious all the time, and refusing to talk to us. She had no patience with anybody. It was quite hard to talk to her."
Article continues below advertisement
From the age of 11 through 14 the Communist regime forced her to do something that would strike horror into most American teens' hearts – she had to give up her cell phone so she could focus on endless lonely hours in the pool.
"I sometimes felt as though I had lost her. I missed her so much. We were allowed to see her only once a week, and she was only 11. The house felt so empty," revealed her mother, Ning Yiqing.
Sacrifice is considered the key to success in China. Many Chinese believe "we have to give in order to earn. Give time and effort. In the West, you pay a coach to turn you into an athlete. But in China, the state pays, so you have to sacrifice something in return," explained her family, who live in a cramped second-floor apartment in a grey Communist Party housing block in bustling Hangzhou, a city of 8.7 million in eastern China.
Article continues below advertisement
After swimming the final 50M of Saturday's race at a time that beat U.S. men's champ Ryan Lochte, rumors were rampant that the little Chinese girl had bulked up on steroids, an accusation that deeply upsets her parents.
"My little ghost has worked exceptionally hard all her life," said her father. "At times, it has been tough for her, but she has always wanted to do this."
Despite U.S. coach John Leonard calling her winning performance "disturbing" and claiming it brought back "a lot of awful memories" of doping scandals at previous Olympics, her parents are still gushing about her glory.
"When she won gold, we were very proud. But in truth, we expected her to do well because she had achieved very high results in training. Deep down, we knew she could win, but we didn't tell her because we didn't want her to feel the pressure of expectation," said her father.
As for Ye, she has denied ever cheating to win a race, saying: "My achievements derive from diligence and hard work, I will never use drugs. Chinese athletes are clean."