Celebs React To Clint Eastwood's 'Invisible Obama' RNC Speech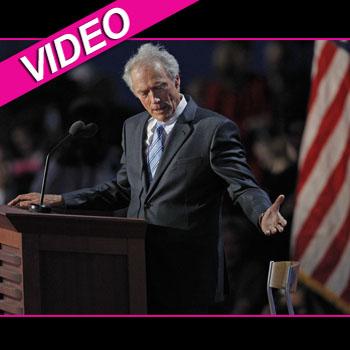 All the buzz on Friday is centered around Clint Eastwood, as the 82-year-old Hollywood legend delivered a quirky endorsement for presidential candidate Mitt Romney at the Republican National Convention in Tampa, Florida.
Celebrities were swift to react on Twitter, as Clint's speech -- an 11-minute conversation chastising an imaginary President Barack Obama -- dredged up many witty responses.
Article continues below advertisement
* The Voice coach and Maroon 5 frontman Adam Levine: "Clint Eastwood has gone f**kin nutterbutters yo."
* Comic legend Bob Newhart: "I heard that Clint Eastwood was channeling me at the RNC. My lawyers and I are drafting our lawsuit…"
* Movie critic Roger Ebert: "Clint, my hero, is coming across as sad and pathetic. He didn't need to do this to himself. It's unworthy of him."
* Star Trek star Zachary Quinto: "Is this a segment for 'Mrs. Eastwood and Company'?"
* The Newsroom star Olivia Munn: "Clint Eastwood was talking to an empty chair at the RNC...No, that's not the set up to a joke. Its not even a joke."
* Actor and LGBT advocate George Takei: "Clint Eastwood's RNC speech was to imaginary Obama in an empty chair. I'm drafting a DNC speech to imaginary Romney in an empty factory."
* Comedian and actor Patton Oswalt: "To restore balance to the universe, Obama must have Tommy Chong onstage at the DNC talking to a steak."
Article continues below advertisement
* MSNBC political analyst Rachel Maddow: "Looking at Rubio & Romney but all I can see is the Clint Eastwood performance art that just happened on that stage. What were they thinking?"
* Soap opera star Nancy Lee Grahn: "20 yrs ago i wanted Clint Eastwood to make my day. Now I just want him to take his pills and b grateful he doesnt need medicare."
In Eastwood's monologue, he skewered the president for what he believes to be a string of broken and unfulfilled promises.
"Mr. President, how do you handle promises that you have made when you were running for election, and how do you handle them? I mean, what do you say to people?" he said, speaking to an empty chair. "When somebody doesn't do the job, you gotta let 'em go.
"Well, I know even people in your own party were very disappointed when you didn't close Gitmo. And I thought, well closing Gitmo -- why close that, we spent so much money on it. But, I thought maybe as an excuse -- what do you mean shut up? OK, I thought maybe it was just because somebody had the stupid idea of trying terrorists in downtown New York City."
Article continues below advertisement
Eastwood continued talking to the 'invisible Obama' saying, "I would just like to say something, ladies and gentlemen. Something that I think is very important. It is that, you, we -- we own this country. We -- we own it. It is not you owning it, and not politicians owning it. Politicians are employees of ours.
"And -- so -- they are just going to come around and beg for votes every few years. It is the same old deal. But I just think it is important that you realize, that you're the best in the world. Whether you are a Democrat or Republican or whether you're libertarian or whatever, you are the best.