Obama Vs. Romney: Who Celebs Are Voting For!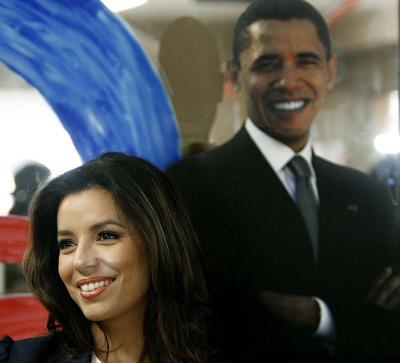 In a country as politically divided as ever, even Hollywood can't agree on who to vote for come Nov. 6. Here's a roundup of celebs who have pledged their allegiance to Barack Obama and Mitt Romney.
TEAM OBAMA
Beyoncé: She sang at President Obama's inauguration ball and worked with First Lady Michelle on her anti-obesity initiative.
Leonardo DiCaprio: The environmental activist donated thousands to the Obama campaign.
Article continues below advertisement
Scarlett Johansson: Made a viral vote-for- Obama internet video.
Eva Longoria: Spoke on his behalf at the Democratic National Convention.
Natalie Portman: She's one of the headliners of Obama's youth campaign.
TEAM ROMNEY
Jon Voight: The conservative actor is a regular on cable news, supporting Romney.
Kid Rock: He's opened for Governor Romney at several pep rallies.
Clint Eastwood: The actor/director brought the house down at the RNC when he compared Obama to an empty chair.
Johnny Van Zant: The proud Republican Lynyrd Skynyrd frontman performed at festivities around the Republican National Convention.