Diane Sawyer's Election Night Performance Sparks Speculation She Was Tipsy And/Or Tired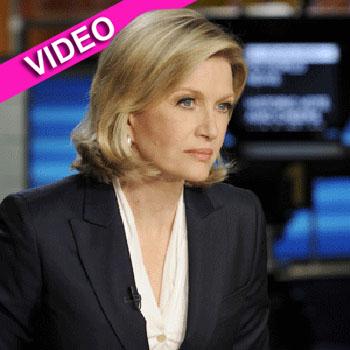 ABC news anchor Diane Sawyer didn't have her A-game working during Tuesday's election coverage alongside George Stephanopoulos, as the newscaster's slurry, erratic broadcasting prompted speculation she had something to drink before taking to the air.
Sawyer's announcement that President Barack Obama had won Minnesota at around 10 p.m. ET Tuesday was a frequently-cited gaffe in a night choc full of them.
Article continues below advertisement
She said, "OK … I wanna … can we have our music, because this is another big one here? Minnesota, we're ready to project Minnesota, right now. Well, tonight we know that President Barack has won Minnesota."
Of course, Sawyer's broadcast Tuesday set Twitter abuzz, as many celebs took notice the 66-year-old news veteran seemed to be feeling no pain.
"I'll have what Diane Sawyer is having," singer Josh Groban tweeted. The Real Housewives of New Jersey personality Albie Manzo tweeted, "Diane Sawyer is waaaaaaassted right now," while Dina Manzo tweeted, "I want whatever Diane Sawyer is taking or drinking tonight."
Watch the video on RadarOnline.com
"Seriously, one of Diane Sawyer's eyes is closed," their co-star Greg Bennett wrote, while the band They Might Be Giants added, "And Diane Sawyer declares tonight's winner is... chardonnay!"
The New York Times' Brian Stelter defended Sawyer, saying an "alternative theory" to her off-night is that "she gets this way when she's really tired."
And in yet another reminder of the high-tech, instant gratification world we live in, within minutes, someone put together a "Drunk Diane Sawyer" Twitter account.