Ann Curry Just Before TODAY Exit: NBC Bosses Not Fans Of My Fashion, Greying Hair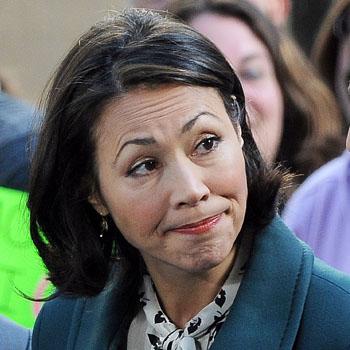 In a revealing interview with Ladies Home Journal conducted just before she was replaced by Savannah Guthrie as TODAY co-anchor, Ann Curry vents about how she irked decision-makers at NBC because she wasn't their style -- literally.
Curry said Peacock Network officials didn't like that she had grey hair, thought her wardrobe was frumpy and wanted her to wear "ridiculously high heels" during her time as an anchor with the TODAY show.
Article continues below advertisement
Curry said when she wore clogs and flats into the studio, it didn't "go over very well with my bosses," and in one instance, she was compared to breakfast cereal mascot Toucan Sam when wearing a colorful dress on the air.
As for the greying, Curry, 55, said, "I've got gray hair because I won't dye it: I want to be about to honor my family by looking exactly as they did as they got older … I think showing some grey is authentic ... true beauty is a face you have lived in.
"Of course I want to look my best: I eat right, exercise and use skin cream. I try to wear nice clothes. But I don't want to change the fundamental parts of me, because it means changing who I am."
Looking ahead, Curry, who accepted a position as a news correspondent with the network, said, "Eventually, I want to become a teacher, like my father wanted to be, and hopefully positively influence the next generation."
Article continues below advertisement
As we previously reported, Curry finished out her tenure with just more than a year in the lead anchor role, and her ouster came after the NBC morning juggernaut lost a 16-year lead over its chief rival, ABC's Good Morning America. On her last broadcast in that capacity, she told viewers, "For all of you who saw me as a groundbreaker, I'm sorry I couldn't carry the ball to the finish line, but man, I did try."