GMA Trounces Today Show In Savannah Guthrie's Debut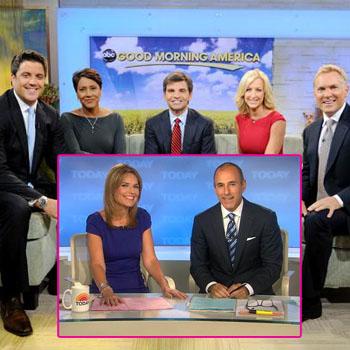 Looks like Ann Curry got the last laugh.
ABC's Good Morning America spoiled Savannah Guthrie's Today show debut Monday, beating its NBC rival by a margin of 4.425 million total viewers to 4.069 million.
Guthrie's debut was down more than half a million viewers from the 4.604 Today earned in former host Ann Curry's final week. GMA racked up 6,000 more viewers in the coveted 25-to-52-year-old demographic, as well.
Article continues below advertisement
Guthrie, who is NBC's chief legal analyst, took over for Curry after NBC's once-dominant morning juggernaut lost a 16-year lead over GMA earlier this year.
The 40-year-old Guthrie said of taking over: "This was a little unexpected, as we all know, but I just want to say that I'm so proud and honored to be in a place occupied by so many women I admire."
In her last Today broadcast, an emotional Curry told viewers, "I'm sorry I couldn't carry the ball to the finish line, but man, I did try."