Exclusive
Matt Lauer's 'Indian Giver' Comment Was 'Archaic, Hurtful And Racial,' Says Native American Group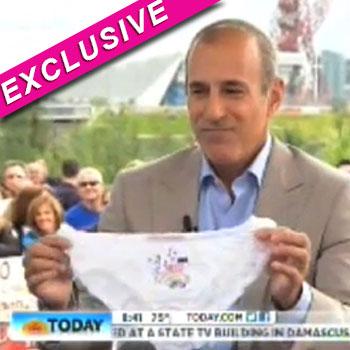 Article continues below advertisement
"These comments were not in the spirit of the Olympic Games, nor civil discourse."
As RadarOnline.com previously reported, in the bizarre segment that quickly spiraled into the realm of offensive, Meredith was passing out commemorative Olympic underwear for ladies from designer Stella McCartney, including one to Lauer.
When she tried to get the underwear back from Matt, he blurted out, "No, no no, they're mine … don't be an Indian giver!"
"Mr. Lauer's misinformed choice of words reinforces archaic and hurtful racial stereotypes that date back to colonial America," Pata said, slamming the cutting comments made by the long-term host.
She went on to explain the origin of the phrase, which is often taken out of context by ignorant people. "Early commerce between tribal nations and colonial settlers required the value of goods exchanged to be of equal or greater value, or the trade was not deemed acceptable. Some colonial traders who did not uphold this ethic used this phrase to discredit tribal nations and Native traders.
Article continues below advertisement
"Now, the pejorative phrase has become associated with a person who takes back a gift. This misrepresents the original and modern cultural values of Native Americans, based on fair trade, sharing, and empowering those around them."
Instead of making inadvertent racial jabs, Lauer should be celebrating the diversity of Team USA, which includes a number of Native American athletes such as Mary Killman - a member of the Citizen Band Potawatomi tribe of Oklahoma, who is competing in synchronized swimming, and Tumea Anae, a Native Hawaiian on the U.S. national water polo team.
"It is noteworthy that 2012 also marks the 100th anniversary of one of the more memorable Olympic moments when Jim Thorpe, a Native American considered the best athlete of the 20th Century and an All-American hero, was called the 'greatest athlete in the world' by the King of Sweden," Pata told RadarOnline.com. "This happened when the King of Sweden gave Thorpe of the Sac and Fox Nation, his gold medals for placing first in the pentathlon and decathlon competitions. Since 1912, no other athlete has accomplished this feat.
Article continues below advertisement
"Matt Lauer can still have his great Olympic moment and exhibit true Olympic spirit by educating NBC's global audience about the important place of Native Americans in society and sports. Like so many athletes are doing every day in London, we hope he rises to the moment," she concluded.
Matt's not the first celeb to sputter verbally in that regard, as Kris Jenner and Jessica Simpson have both faced criticism after using the offensive phrase.