Gilbert Gottfried Apologies For Japan Jokes: 'I Meant No Disrespect'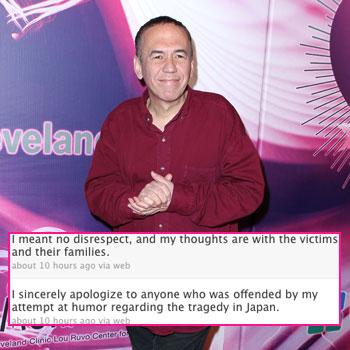 One day after being fired as the voice of the AFLAC duck, comedian Gilbert Gottfried has apologized for his insenstive and tasteless jokes in wake of the Japanese earthquake and tsunami.
"I meant no disrespect, and my thoughts are with the victims and their families," Gottfried tweeted Tuesday.
"I sincerely apologize to anyone who was offended by my attempt at humor regarding the tragedy in Japan."
Gottfried -- who appeared in a pre-taped spot on The Comedy Central Roast of Donald Trump Tuesday night -- later tweeted prior to the airing of the show, "I did a quick appearance on the Donald Trump #Roast. Hope they don't p*ssy out and cut me from the show." ( They did not.)
Article continues below advertisement
After Gottfried first tweeted his so-called jokes on Monday, he was widely criticized, and the posts were then removed from his twitter page.
But not everyone is quick to blast him. Shock jock Howard Stern is defending him, saying that it's just Gilbert being Gilbert.
Joan Rivers also came to Gottfried's defense, tweeting: "Oh come on people-this is just outrageous! Gilbert Gottfried was FIRED from Aflac for making jokes about the tsunami in Japan.