Hollywood Celebrities Raise Money For Japan Relief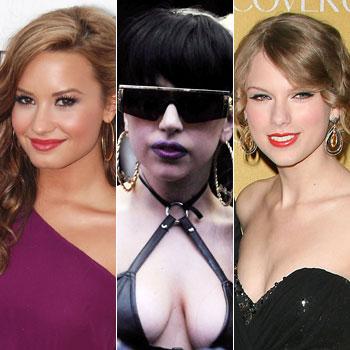 Hollywood stars are using their fame to help raise money and awareness for Japan following the earthquake and tsunamithat devastated the country last week, and RadarOnline.com can bring you a roundup of all the A-list altruists.
Disney star Demi Lovato has donated $1 million of her own money to the relief cause, and has encouraged her fans to give what they can.
Encouraging her "Little Monsters" to buy bracelets to support the relief efforts in Japan, rock superstar Lady Gaga has raised over $250,000 for the victims.
Article continues below advertisement
'Monsters (fans): in just 48 hrs you've raised a quarter of a million dollars for Japan Relief. It's important we help. X (sic),' Gaga posted on her Twitter page.
The Poker Face singer urged her twitter followers to buy the $5 red and white bracelets, which has a message 'We pray for Japan' both in English and in Japanese.
Petra Nemcova, the gorgeous model who survived the devastating tsunami that hit Asia in 2004, has been encouraging people to donate to her charity Happy Hearts Funds that gives support to children who are affected by natural disasters.
And he may be a bitchin' rock star warlock, but Charlie Sheen clearly is helping those in need, donating $7,500 from the ticket sales of his upcoming shows in Chicago and Detroit to the Japan relief efforts.
Jack Johnson cancelled his tour in Japan and is donating the proceeds to the Global Giving Japan Earthquake and Tsunami Relief.
Boyz II Men have so far raised $13,725 from their fans for the relief efforts and Google CEO Eric Schmidt and his wife Wendy have raised $19,000 so far and have promised to match donations up to $100,000.
Article continues below advertisement
Taylor Swift, Katy Perry, P. Diddy, Justin Bieber, Conan O'Brien. Chris Brown, and George Takei all have Tweeted their sympathies for Japan and more have written about supporting the Red Cross.
"Imagine... if we ALL texted REDCROSS to 90999 we'd have raised over 60million dollars for #JAPAN REFLIEF! BE THE CHANGE YOU WANT TO SEE! BE!" Perry tweeted on Sunday.
"Seeing all of this footage in Japan is devastating! Please help the people of Japan by texting REDCROSS to 90999 to make a $10 donation," reality star Kim Kardashian Tweeted to her 6.7 million followers.
Hollywood stars are often generous with their charitable giving, from George Clooney and Jennifer Aniston supporting relief efforts last year in Haiti, to Carrie Underwood donating to the Nashville flood relief effort.
So while they enjoy the perks of fame, they often show they care through their own donations and encouraging others to give as well.
RELATED STORIES:
EXCLUSIVE VIDEO: Michael Jackson's Children Visiting L.A. Family Housing Shelter