Jerry Sandusky Child Abuse Jury Hears Details Of Coerced Showers And Chilling Threats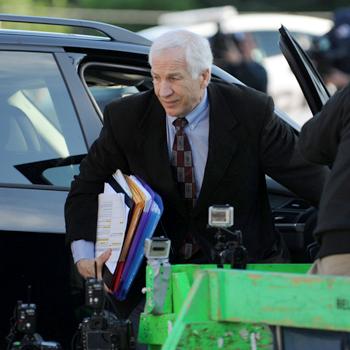 By Debbie Emery - Radar Reporter
The latest accuser in the child abuse trial of shamed former Penn State coach Jerry Sandusky added to the litany of shocking allegations against him on Wednesday by telling the Pennsylvania courtroom horrific details of alleged sex in showers.
Now 23 years old, Victim 5 revealed how when he was just 11 the defendant allegedly leered at him in the shower, insisting on soaping him down and washing his hair despite the boy trying to squirm away.
Article continues below advertisement
"I went to the far end of the shower and stood under the shower head and tried to face the wall as much as I could. I kept looking over my shoulder and I saw that (Sandusky) was standing a few feet away from me and I felt uncomfortable, I felt like he was looking at me," testified the witness, according to a report by the Philadelphia Inquirer.
The man went on to give more sexually graphic details of the alleged shower assault that ended with him running away, and neither he nor 68-year-old Sandusky speaking to each other again. "I thought he was upset with me," he said about the fall out from the 2001 incident. "He didn't talk to me. No eye contact."
Also on Wednesday, janitor Ronald Petrosky took the stand to recall a conversation he had with his colleague Jim Calhoun when he emerged from the campus shower room visibly shaken one day in 2000.
"He looked at me and said, 'I just witnessed something that I'll never forget for the rest of my life," said Petrosky. "That man that just left - Sandusky - I saw him licking on that boy's privates."
Calhoun, who told his co-workers at the time that he witnessed Sandusky allegedly assaulting an 11- to 13-year-old boy, now suffers from dementia and was not available to testify.
Article continues below advertisement
Yet another victim, dubbed Victim 7, revealed how Sandusky "had this habit of putting his hand on my leg and squeezing," almost to the point of pain, when the pair attended football games together or he stayed over at his house, and to this day, he's repulsed by chest hair - because it reminds him how Sandusky would "cuddle," pressing close to the boy in bed at the coach's home.
"It felt very uncomfortable to me, but I wasn't sure how to handle it," said the now 27-year-old, recalling how he decided to "push it to the back of my mind."
In a disturbing example of the power he lorded over these young boys, Victim 10 explained how when Sandusky forcibly performed oral sex on him following a playful wrestle, he then threatened that if he told anyone, "that I'd never see my family again."
After two days of disturbing testimony, the Bellefonte, Pennsylvania courtroom has now heard five victims testify, seen three of them cry, and been brought to tears themselves. Three more are expected to speak before the trial is over.