Jerry Sandusky Created The 'Perfect Environment For A Predatory Pedophile,' Say Prosecutors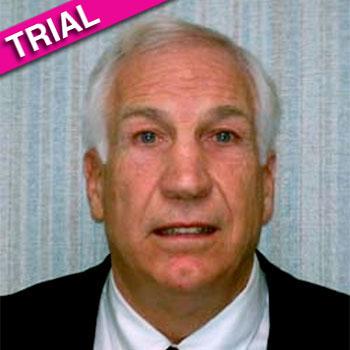 By Debbie Emery - RadarOnline.com Reporter
Opening statements in the highly publicized Jerry Sandusky child sex abuse trial began on Monday, and the prosecution did not hold back in their damning description of the former Penn State football coach.
Senior Deputy Attorney General Joseph McGettigan III told the jury in the Bellfonte, Pennsylvania, courtroom that Sandusky is a "predatory pedophile" who is accused of 52 criminal counts of sexually abusing 10 boys over 15 years, reported the Los Angeles Times.
Article continues below advertisement
Most of the jury members have a strong connection to Penn State as teachers, students or just committed football fans, which made the images of the smiling, happy boys who went on to become his alleged victims even harder for them to see.
"When you look at young men up there, see them as children," the lead prosecutor instructed the seven men and five women in the courtroom.
McGettigan went on to claim that by founding The Second Mile charity for at-risk children, 68-year-old Sandusky had created the "perfect environment for the predatory pedophile."
In his own opening statements, defense attorney Joseph Amendola suggested that the shamed coach may even take the stand to explain his actions directly.
"It was routine for people to get in the showers in Jerry's culture. He's going to tell you later, it was routine for individuals to take showers together," argued the lawyer, stating there was nothing criminal in his relationship with the boys.
Amendola went on to call the prosecution's investigation flimsy and said some of the young men have a financial interest in the case. "He thought of them as members of his extended family," he said. "But now six of the eight young men have civil lawyers. It is absolutely, totally unusual for an alleged victim to have an attorney outside of the Commonwealth."
Article continues below advertisement
Also on the high profile witness list are Mike McQueary, a former graduate student and football coach who said he witnessed Sandusky in the showers at Penn State with a naked 10-year-old boy, and both the widow and son of late Penn State head coach, Joe Paterno, who died of lung cancer in January.
The trial is expected to last three weeks.
RELATED STORIES: