Jerry Sandusky 'Shouldn't Be Allowed To See His Grandchildren,' Says Their Mother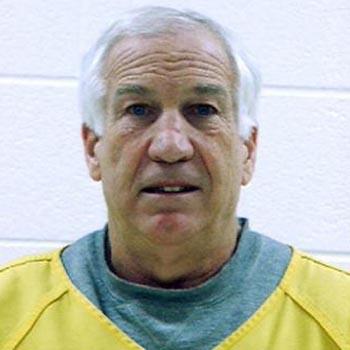 By Debbie Emery - Radar Reporter
A judge ruled on Friday that alleged Penn State child abuser Jerry Sandusky should be given permission to see his grandchildren despite numerous allegations of molestation against him, but their mother adamantly disagrees.
"I do not believe it is safe for my children, or any children, to be around Jerry Sandusky," argued former daughter-in-law Jill Thomas, who is currently in a bitter custody dispute with her ex-husband, Matt Sandusky, reported the Patriot News.
Article continues below advertisement
"I cannot understand how a court could place the desires of someone who is criminally charged with sexually abusing children above the safety of children," Thomas went on to say in her statement.
"These are my kids, they are the most important thing in the world to me, and I will continue my fight to protect them in hopes that at some point, someone in a position of authority will do what is necessary to protect them."
As RadarOnline.com previously reported, the ex-coach stands accused of molesting eight boys over 15 years, from 1994 to 2009. He was arraigned late last year on 40 criminal counts -- 21 of them felonies -- including multiple counts of involuntary deviate sexual intercourse, corruption of minors, endangering the welfare of a child, indecent assault and unlawful contact with a minor, along with single counts of aggravated indecent assault and attempted indecent assault.
Article continues below advertisement
The concerned mother previously claimed that the shamed former assistant football coach had inappropriately touched her son and she believed he was grooming him for sexual abuse.
"Although I have kept silent up until now to protect my children and my family's privacy, I can no longer keep silent about Jerry Sandusky's request to be permitted to see my children," said Thomas, who had tried to testify in last week's hearing and is prepared to speak in court on Friday regarding the 68-year-old's bail conditions.
Judge John M. Cleland ruled that Sandusky can see his other eight grandchildren under parental supervision while he is under house arrest awaiting his trial, but that the judge residing over Jill and Matt's custody case must decide if their three children communicate with their grandfather.
Defense attorney Joe Amendola said that Sandusky denies the abuse allegations, and stated that the legal guardian appointed to represent Thomas' children's best interests in the custody battle gave Cleland a letter during Friday's hearing saying the children want to see him.
Article continues below advertisement