Los Angeles Sex Abuse Scandal School Removes Entire Teaching Staff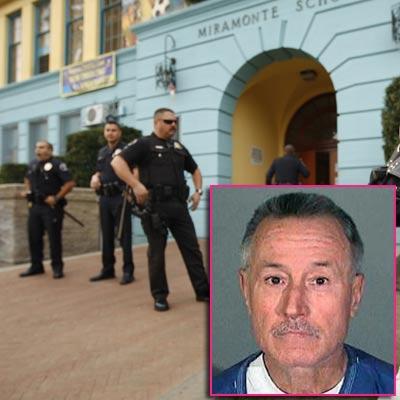 By Debbie Emery - Radar Reporter
Los Angeles school authorities have made an extreme response to the arrest of two teachers accused of sex abuse by removing the entire faculty while they investigate the allegations.
All staff members from the principal to custodians at Miramonte Elementary School in southeast Los Angeles will be replaced, reported KABC-TV.
As RadarOnline.com previously reported, Mark Berndt, 61, was arrested last week at his home in Torrance, California. He's accused of sexually abusing at least 23 male and female students during school hours, ranging from 6 to 10 years old, from 2008 until 2010, according to police.
Article continues below advertisement
On Friday, a second teacher was arrested after it was alleged that Martin Springer, 49, had fondled two girls in his class over the past three years.
Now an entirely new staff will take over the running of the school, along with a psychiatric social worker in every classroom to help students and staff cope with any issues.
Superintendent John Deasy informed distraught and worried parents about the decision, while sharing his disgust at the scandal that has rocked the school.
"I am outraged, disgusted," he revealed. "I can't have any more surprises at Miramonte, even though the police will do what they have to do. And if there are no more, thank God. We deal with the horror and the tragedy I have already. And if there are more, then we will have to deal with that."
However, some parents are not happy about the trigger move, saying that there are still some very good teachers at the school and see that latest action as the authorities way of "sweeping everything under the rug," according to one parent.
Article continues below advertisement
"They're just trying to blame it on everybody else except themselves or they're trying to point fingers."
Families are trying to come to terms with the shocking allegations while weighing their options, including removing their children from the establishment and taking legal action against the school district for not responding to prior claims of abuse and failing to protect the students.
"At the end of the day, I just want to see somebody fired, somebody disciplined, because they fell asleep at the wheel. They failed to protect our children," said Luis Carillo, an attorney for an alleged victim.
The school board is expected to call for the firing of Springer on Tuesday, but under California law, neither the board nor the superintendent can fire a teacher. The case has to go before an administrative law judge and a three-teacher panel during which time he will be on paid administrative leave.
Berndt was fired in March 2011 soon after the investigation began.
RELATED STORIES:
Second Teacher Arrested In Shocking Los Angeles School Sex Abuse Scandal