Exclusive
Syracuse Basketball Coach Bernie Fine's Wife Accused Of Having Sex With Players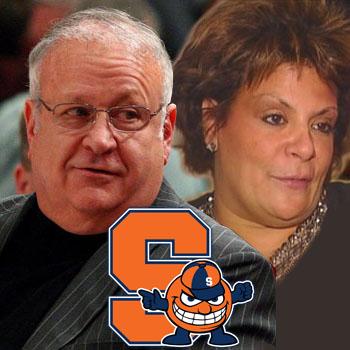 By Debbie Emery - RadarOnline.com Reporter
Just when Syracuse University was rebounding from Bernie Fine's sexual abuse scandal last year, another shameful revelation has stricken the school.
Bernie's wife, Laurie Fine, has now been accused of having sex with players and court documents filed on Monday claim that several people associated with the highly respected basketball program knew about it, including her husband, reported FoxNews.com.
Article continues below advertisement
As RadarOnline.com previously reported, assistant basketball coach Bernie Fine was fired last November after three men accused him of sexual abuse.
Fine, 65, who was the school's top assistant coach since 1976, denied any wrong doing, and the district attorney handling the case ruled in December that he could not be charged because the statute of the limitations had passed.
In the latest affidavit in a slander suit against Syracuse University and basketball coach Jim Boeheim, Bobby Davis, a former ball boy with the men's team said he heard several conversations between players boasting about having sex with Laurie.
A lawyer for the basketball wife calls the accusations "desperate and disgusting," and described the suit as: "an example of an irresponsible and unprofessional lawyer flailing about to keep a dying lawsuit in the public eye."
Davis, now 40, and his step-brother, Mike Lang, are two of the people who initially stepped forward and accused Bernie of molesting them, which Boeheim denied and in defending his friend, claimed Davis was lying to cash in on the publicity generated by the sexual abuse scandal unfolding at Penn State University.
Article continues below advertisement
He later apologized when a third accuser came forward, along with a damning audiotape conversation between Laurie and Davis about her husband's illicit acts.
In December, Davis and Lang filed a slander suit in state court, and the latest affidavit stresses that Boeheim knew or should have known what his players were up to.
"He knew or purposefully chose to ignore Fine and his wife's behavior," Davis said in the affidavit. "He had every reason to know that I was telling the truth, but he instead lashed out at me and called me and my brother liars."
According to FoxNews.com, the ball boy also talked to Bernie about his wife's deviant activities, and he "did not react in the slightest." Davis lived with the Fines for some time and claimed Laurie would give certain players who caught her fancy special treatment, including doing their laundry, lending them her car and giving them money and gifts.
RELATED STORIES:
Longtime L.A. Teacher Accused Of Lewd Acts On At Least 23 Kids