Joe Paterno Breaks Silence On Sex Abuse Scandal, 'I Never Heard Of Rape And A Man'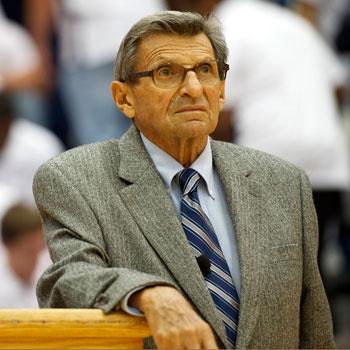 Joe Paterno is finally speaking out about the sex abuse scandal that has embroiled Penn State for the last several months, costing him the job of head football coach.
Paterno's former assistant coach Jerry Sandusky is facing more than 50 counts of sexually abusing minor boys, with the allegations ranging from rape to inappropriate touching.
The university's athletic director and vice president have also been charged with lying to the grand jury investigating the allegations again Sandusky.
Article continues below advertisement
In a blockbuster exclusive with The Washington Post Paterno said he first learned there was a problem with Sandusky a decade ago when a young assistant, Mike McQueary, told him he'd witnessed Sandusky abusing a young boy in a shower.
"He was very upset and I said why, and he was very reluctant to get into it," Paterno told The Post in his first interview about the case.
"He told me what he saw, and I said, what? He said it, well, looked like inappropriate, or fondling, I'm not quite sure exactly how he put it. I said you did what you had to do. It's my job now to figure out what we want to do. So I sat around. It was a Saturday. Waited till Sunday because I wanted to make sure I knew what I was doing. And then I called my superiors and I said: 'Hey, we got a problem, I think. Would you guys look into it?' Cause I didn't know, you know. We never had, until that point, 58 years I think, I had never had to deal with something like that. And I didn't feel adequate."
Paterno, who is now 85 and battling cancer, added that he didn't know what university procedure was in a situation like this. "So I backed away and turned it over to some other people, people I thought would have a little more expertise than I did. It didn't work out that way."
Paterno insisted that McQueary was unclear with him about the nature of what he saw, and added that even if McQueary had been more graphic, he's not sure he would have understood.
Article continues below advertisement
"You know, he didn't want to get specific," Paterno told The Post. "And to be frank with you I don't know that it would have done any good, because I never heard of, of, rape and a man. So I just did what I thought was best. I talked to people that I thought would be, if there was a problem, that would be following up on it."
Paterno has not been charged with any crime, and now admits, "I wish I had done more."