Penn State Scandal: Jerry Sandusky Waives Preliminary Hearing, Case Will Advance To Trial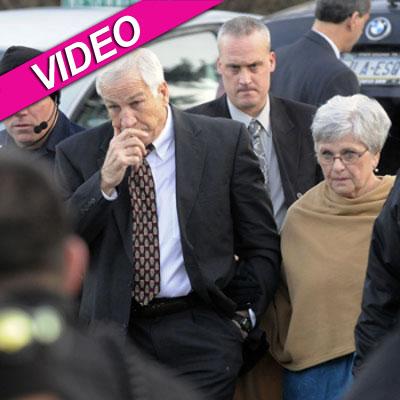 By Adam S. Levy - RadarOnline.com Staff Writer
Former Penn State defensive coach Jerry Sandusky Tuesday waived his preliminary hearing, moving forward with the trial in which he's accused of more than 50 criminal counts of child molestation and other sex offenses over a 15-year span.
Sandusky could have faced some of his accusers should the preliminary hearing have gone on; Tuesday's waiver, Senior Deputy Attorney General E. Marc Costanzo said, "provides maximum protection to, most importantly, the victims in this case.
Article continues below advertisement
"It avoids their having to testify for a second time," Costanzo said. "They will, of course, testify at a trial in the case."
Sandusky will be arraigned on January 11; at that time, he's expected to enter a plea to the charges.
The 67-year-old coach, accompanied by wife Dottie and lawyer Joseph Amendola, entered the courthouse through the backdoor and refused to answer any questions from an estimated 50 media members at the scene.
Sandusky is accused of molesting 10 boys from 1994 to 2009. Among the 50 criminal counts he's been accused of include: involuntary deviate sexual intercourse, corruption of minors, endangering the welfare of a child, indecent assault and unlawful contact with a minor, along with single counts of aggravated indecent assault and attempted indecent assault.
In interviews since the scandal broke, Sandusky has characterized his behavior with the children as "horseplay," and his time with them as "precious" and "significant."
Article continues below advertisement
He told the New York Times that while he's attracted to children, it's not in a sexual way.
"If I say, 'No, I'm not attracted to young boys,' that's not the truth because I'm attracted to young people -- boys, girls," Sandusky said. "I enjoy spending time with young people. I enjoy spending time with people ... I mean, my two favorite groups are the elderly and the young."
The scandal has shaken Penn State to its very foundation: most notably, longtime Head Coach Joe Paterno was canned for a perceived non-response to a 2002 report from graduate assistant Michael McQueary that Sandusky had raped a 10-year-old boy in the Penn State locker room showers. Three other high-ranking officials have parted ways with the university in the wake of the scandal, as well.