Joe Paterno Rushed To Hospital After Fall, Jerry Sandusky Preparing For First Court Hearing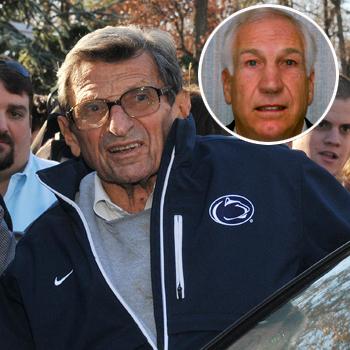 Joe Paterno was taken to the hospital Saturday after a fall in his home resulted in a fractured pelvis.
The 85-year-old former Penn State football coach will not have to undergo surgery however, the AP reports but he is going to stay in the hospital because he needs to be kept stabilized, and wouldn't be able to travel to his doctor and the hospital for his on-going treatments for lung cancer.
Article continues below advertisement
Paterno hasn't been seen in public since he was fired from Penn State November 9 amid the ever-growing Jerry Sandusky sex scandal.
Joe Pa's former assistant coach has now been accused by 10 alleged victims of sexual molestation, ranging from rape to inappropriate touching.  He was arrested for the second time last week when accusers nine and 10 came forward, and new charges were added to the existing 40. He is currently out on $250,000 bail.
On Tuesday Sandusky will be facing many of those accusers in court for a preliminary hearing.
"As bad as it's going to be — and I don't have to tell you what the media frenzy's going to be, it's going to be crazy — but I think if we waive it, we're losing a really important opportunity for Jerry, who maintains his innocence," Sandusky's attorney Joseph Amendola told AP.
These are not happy days in Happy Valley.