Attorneys Announce First Civil Lawsuit In Jerry Sandusky-Penn State Molestation Scandal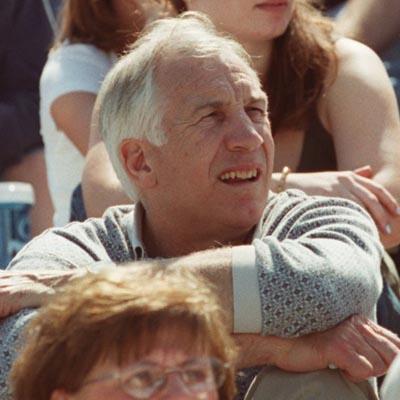 By Adam S. Levy - Radar Staff Writer
And so it begins.
Two child sex abuse advocates, attorneys Jeff Anderson and Marci Hamilton, announced the first in what's expected to be a cavalcade of civil lawsuits in the Penn State molestation scandal during a news conference at Philadelphia's Omni Hotel Wednesday.
Accused pedophile/ former football defensive coach Jerry Sandusky, his charity The Second Mile, and Penn State University are all named in the suit, which will be filed in Philadelphia County Court of Common Please.
Article continues below advertisement
Anderson and Hamilton Wednesday read a statement on behalf of the plaintiff, who claims that beginning in 1992, he was molested more than 100 times by Sandusky at the coach's house, the Penn State football locker room and assorted spots throughout Philadelphia.
"I am the man in this lawsuit and I'm writing this statement and taking this action because I don't want other kids to be hurt and abused by Jerry Sandusky or anybody like Penn State to allow people like him to do it -- rape kids!" the statement read. "I never told anybody what he did to me over 100 times at all kinds of places until the newspapers reported that he had abused other kids and the people at Penn State and Second Mile didn't do the things they should have to protect me and the other kids.
"I am hurting and have been for a long time because of what happened but feel now even more tormented that I have learned of so many other kids were abused after me. Now that I have told and done something about it I am feeling better and going to get help and work with the police. I want other people who have been hurt to know they can come forward and get help and help protect others in the future."
Article continues below advertisement
As we previously reported, Sandusky is accused of molesting eight boys over 15 years, from 1994 to 2009. He was arraigned on 40 criminal counts in connection with the accusations, including multiple counts of involuntary deviate sexual intercourse, corruption of minors, endangering the welfare of a child, indecent assault and unlawful contact with a minor, along with single counts of aggravated indecent assault and attempted indecent assault.
The scandal has shaken Penn State to its very foundation, provoking mass firings of a number of officials for their purported inaction when allegations of Sandusky's pedophilic tendencies began sprouting up. Most notably, longtime Head Coach Joe Paterno was canned for his purported lack of action to the 2002 report.
Penn State president Graham Spanier was also fired in the wake of the scandal. Athletic director Tim Curley and vice president for finance and business Gary Schultz both resigned after they were charged with perjury, accused of covering up the 2002 incident.