Jerry Sandusky To Be Released After Posting $250,000 Bail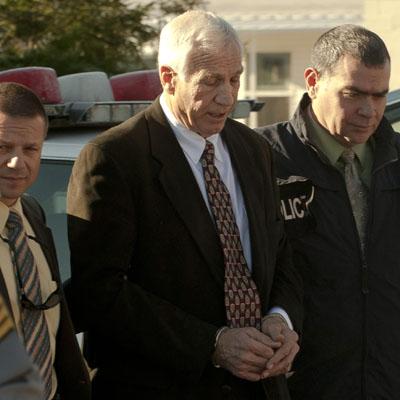 1:15 p.m. ET UPDATE: Sandusky has just been released from jail.
Jerry Sandusky Thursday posted $250,000 bail – one day after his arrest on new charges of child sex abuse.
The ex-Penn State football coach posted bail using $200,000 in real estate holdings and a $50,000 certified check provided by wife Dorothy.
Sandusky is expected to be released at any time. He remained at the Centre County Correctional Facility as of late Thursday morning and the warden said he was quiet and cooperative during his overnight stay.
Article continues below advertisement
Under the terms of his release, Sandusky, 67, cannot leave his home and is subject to electronic monitoring. He also is forbidden from having any contact with any witnesses or victims in the attorney general investigation into his case.
As RadarOnline.com previously reported, Sandusky was arrested and handcuffed at his home in Centre County, Pa. and jailed on Wednesday after being charged with 12 new counts of child sex abuse after a grand jury report released details of testimony from two new alleged victims.