Victim #1's Attorney Blasts Jerry Sandusky's Comment About 'Precious Times' With Children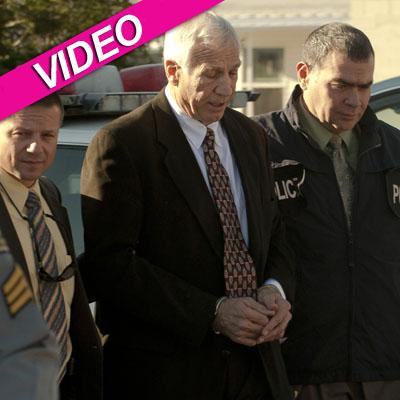 By Adam S. Levy - Radar Staff Writer
Michael Boni, the attorney for one of former Penn State defensive coach Jerry Sandusky's accusers (Victim # 1), shot back at the coach's cavalier comments to the New York Times in a recent interview in which he defended his behavior around children.
"The environment was family ... all of the times were precious times ... they were significant times," Sandusky told the paper in the interview, which was partially videotaped.
Article continues below advertisement
On Monday, Boni told ABC News in response, "These were, quote, precious?!? In fact they were the most vile, and unspeakably horrible moments for his victims!"
In Sandusky's interview with the New York Times, the accused pedophile, 67, clarified his earlier statements in an interview with Bob Costas, saying that while he is attracted to children, it's not in a sexual way.
Said Sandusky: "If I say, 'No, I'm not attracted to young boys,' that's not the truth because I'm attracted to young people -- boys, girls -- I ..."
At that point, Sandusky's lawyer jumped in, reminding his client that he's "not sexually" attracted to them.
"Right," Sandusky agreed. "I enjoy, that's what I was trying to say, I enjoy spending time with young people. I enjoy spending time with people ... I mean, my two favorite groups are the elderly and the young."
Howard Janet, another attorney for a Sandusky accuser, told CNN that "every time Sandusky opens his mouth, virtually, he puts his foot in it."
Article continues below advertisement
The reporter who conducted the chat, Jo Becker, said Sandusky seemed uncomfortable, but not suicidal.
"It's kind of daunting on him, the situation he's in and just how much jeopardy he faces," she told ABC News.
As we previously reported, Sandusky is accused of molesting eight boys over 15 years, from 1994 to 2009. He was arraigned on 40 criminal counts in connection with the accusations, including multiple counts of involuntary deviate sexual intercourse, corruption of minors, endangering the welfare of a child, indecent assault and unlawful contact with a minor, along with single counts of aggravated indecent assault and attempted indecent assault. He remains free on $100,000 bail.
VIDEO: Attorney For Sandusky Accuser Rips Coach's New Interview
The scandal has shaken Penn State to its very foundation, leading to the firings of a number of officials for their inaction when allegations of Sandusky's pedophilic tendencies began sprouting up. Most notably, longtime Head Coach Joe Paterno was canned for a perceived non-response to the 2002 report.
Sandusky returns to court for a hearing on the criminal charges December 13; stay with RadarOnline.com for more on this story.