Joe Paterno Dies Of Cancer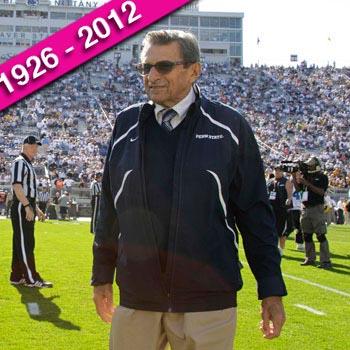 Former Penn State football coach Joe Paterno has died of cancer.
The 85-year-old lost his life to lung cancer and died at Mount Nittany Medical Center on January 22nd.
Paterno was diagnosed with the disease just days after he was ousted as PSU's head football coach in the wake of the Jerry Sandusky sex abuse scandal.
As RadarOnline.com reported, on Saturday afternoon, the Paterno family went public with the coach's dire medical condition.
Article continues below advertisement
Paterno had lived and breathed Penn State football for 62 years, racking up a record-setting 409 wins. He was revered for his position that student players needed to be students before they were players, and for his devotion to team work above individual stardom.
He was a member of the College Football Hall of Fame, won two national championships, and was noted for his extensive philanthropic work.
The sex abuse allegations against his former assistant coach Jerry Sandusky had a devastating impact on Paterno's life and legend. JoPa, as he was called, was fired from his job in November amid allegations that he should have done something about Sandusky a decade ago after being told that he'd been seen showering nude with a 10-year-old boy and engaging in what appeared to be, at the very least, inappropriate behavior.