Joe Paterno Listed In 'Serious Condition' With Complications From His Cancer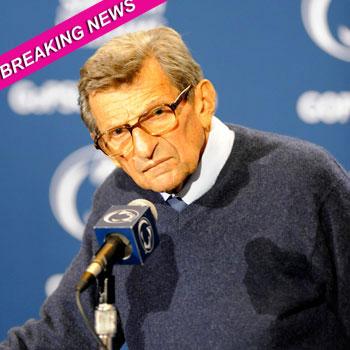 UPDATE: Hundreds of Penn State students have gathered around the statue of Joe Paterno as news spreads that their legendary coach may be near death.
Joe Paterno, who has been in the hospital since January 13 suffering complications related to his battle against lung cancer, has taken a turn for the worse.
"Over the last few days Joe Paterno has experienced further health complications," Dan McGinn, spokesman for the former Penn State football coach, told AP Saturday. "His doctors have now characterized his status as serious."
Article continues below advertisement
Paterno, 85, was diagnosed with lung cancer in November, just days after he was ousted as PSU's head football coach in the wake of the Jerry Sandusky sex abuse scandal.
The latest health crisis came right after Paterno completed a stunning two-day-long interview with The Washington Post where the gridiron legend broke his silence about the case.
"I never heard of rape and a man," Paterno said, explaining why when he was told Sandusky had been seen nude, acting inappropriately in a University shower with a 10-year-old boy, it didn't register with him how horrific the situation was.
Sandusky, Paterno's longtime assistant coach, is now facing over 50 felony charges of sexual abusing underage boys. His first scheduled court date is in March.
Paterno has not been charged in connection with the University's alleged cover-up of Sandusky's actions.
His spokesman said his family "asks that their privacy be respected during this difficult time."
RELATED STORIES:
Penn State Assistant Football Coach: Jerry Sandusky Was 'Extremely Sexual' With Boy In Shower