Second Teacher Arrested In Shocking Los Angeles School Sex Abuse Scandal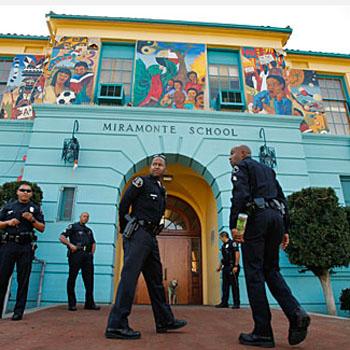 By Debbie Emery - Radar Reporter
A second teacher has been arrested in connection with horrifying abuse allegations at the Los Angeles school where an alleged child abuser carried out sick acts on students for decades.
Martin Springer, a 49-year-old teacher at Miramonte Elementary School in south east Los Angeles, was arrested on Friday after two seven-year-old students allegedly made accusations to the Los Angeles County Sheriff's Department.
Article continues below advertisement
Sheriff's officials confirmed that Springer, an Alhambra resident, is being held on $2 million bail, according to KPCC.
As RadarOnline.com previously reported, longtime teacher Mark Berndt, 61, was arrested Monday at his home in Torrance, California. He is accused of sexually abusing at least 23 male and female students during school hours, ranging from 6 to 10-years-old from 2008 until 2010, according to police. He has since been charged on 23 criminal counts of suspicion of committing lewd acts upon a child.
The graphic evidence in the case includes photographs provided by a film processor -- who turned at least 40 pictures in to authorities, spurring the investigation — that show Berndt taping the children's mouths shut; letting live cockroaches crawl on their faces; and feeding the children a clear liquid substance, which subsequent tests showed to be semen.
It is unclear at this stage whether the latest investigation is connected to Berndt's case, and the authorities have not confirmed if Berndt and Springer knew each other, but some children have reportedly claimed the third grade teachers were friends.
Article continues below advertisement
Los Angeles Unified School District Supt. John Deasy said Springer was removed from the Miramonte campus yesterday when they first learned of the allegations, and it is expected that he will be fired early next week.
Parents expressed their outrage earlier this week over how the school had handled the case and let Berndt teach there so long undetected, despite being the target of an investigation 18 years ago when a student claims he tried to fondle her.
"I feel scared and sad about what happened but we have to send them to school," distraught parent Maria Polanco, who has two children aged six and 10 attending Miramonte, told RadarOnline.com in an exclusive interview.
While she is upset by the way the school has handled the situation, she doesn't want to keep her children home.
"Education is very important so I have to keep them in school no matter what," Polanco explained.
Article continues below advertisement