Jerry Sandusky Laughs During Court Hearing, Wants More Freedom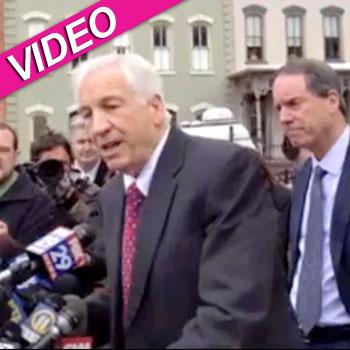 In a court hearing that can only be described as bizarre, Jerry Sandusky laughed and smiled through the proceedings Friday. He then conducted a press conference where he complained to media about not having his freedom.
The former Penn State assistant football coach, who stands accused of sexually molesting dozens of boys who he met through his Second Mile charity, is under house arrest while awaiting trial on over 50 felony charges.
Article continues below advertisement
Friday's hearing concerned issues regarding Sandusky's bail and home confinement, and whether the jury pool should come from another county.
But Sandusky was in such good spirits, the judge finally asked him if he was on medication, reports The Patriot-News. He said he was.
"Are you taking the correct dosage?" asked Judge John Cleland. Sandusky laughed, and shook his head. "Yes."
Outside, Sandusky struck a different tone.
He complained about not being able to see his friends and grandchildren, and not being able to play with his dog in his back yard.
"I'm sensitive to that," he said.
Sandusky's back yard adjoins a school playground, and he has neighbors with young children, leading to a request that he not be allowed to sit on his deck.
Judge Cleland announced that he will rule on all the issues at a later time. The trial is expected to begin in May.