Teacher's Aide At Sex Scandal School Sent Love Letters To 11-Year-Old Boy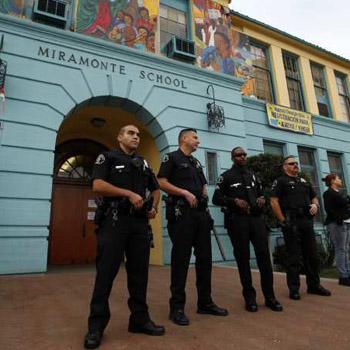 By Debbie Emery - Radar Reporter
The web of sex and scandal at a Los Angeles school spun even further out of control Wednesday when it was revealed that a female teacher's aide allegedly wrote love letters to an 11-year-old boy.
Areceli Luisjuan reportedly penned the indecent messages to the fourth-grader at Miramonte Elementary School in south east L.A. in June 2009, much to the disgust of the boy's mother, who reported it to sheriff deputies and school authorities but claims she wasn't taken seriously.
Article continues below advertisement
According to the Los Angeles Times, one of the lovesick notes reads: "When I was writing this letter, I was crying. My heart was breaking into pieces.
"Oh! I didn't tell you that I like when you put your arm around my shoulder, and if I told you not to do that it's because I don't want to put you in trouble, but I like it…"
In light of high profile arrests of teachers Mark Berndt and Martin Springer for multiple child sexual abuse charges, Luisjuan's inappropriate actions are now part of the internal review by the school district as well as a law enforcement inquiry.
As RadarOnline.com previously reported, Berndt, 61, is accused of sexually abusing at least 23 male and female students during school hours, ranging from 6- to 10-years-old from 2008 until 2010, according to police.
Berndt, who taught at the school for more than 30 years, is currently being held on $23 million bail.
Springer was arrested on Friday after two girls accused him of fondling them in class over the course of three years, but one of his accusers has since recanted her story.
Article continues below advertisement
In the latest shocking incident, Luisjuan allegedly wrote in English to the young Hispanic boy: "When you get close to me, even if you give me the chills I like that. Don't tell nobody about this!"
At the end of the letter she wrote the object of her affection's name four times and signed it off, "Sad Girl," before warning: "Read the letter and throw it away. I don't want your mom or brother to find it."
The distraught mother found three letters to her child from the aide, who was in her 50s, and immediately reported her to the boy's teacher but was warned not to make up stories. She then went to the Sheriff's Department, which directed her to return to the school to handle the matter.
"Why would they pay attention to me?" she asked. "I'm a single mother and Mexican."
According to the mother, Luisjuan admitted to writing the letters and drawing a picture for the boy, but claimed she had a grandmotherly affection for him.