Penn State Scandal: Jerry Sandusky's Serial Sexual Abuse May Stretch Back To 1970s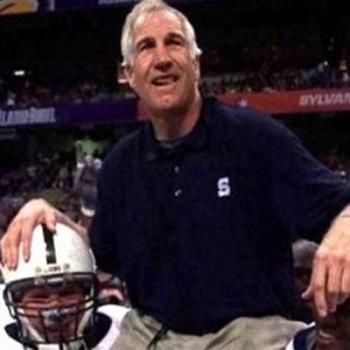 It has been two weeks since the scandal broke about Jerry Sandusky's alleged sexual abuse, and now one of the former Penn State coach's victims has revealed that his alleged child abuse could have been going on as far back as the 1970s, RadarOnline.com has learned.
Sandusky's remorseless interview with Bob Costas on Monday has motivated a number of new victims to come forward after hearing their alleged abuser calmly claim he did nothing wrong, reported the Patriot-News.
Article continues below advertisement
As RadarOnline.com previously reported, in the shocking interview with NBC New's Rock Center, the former coach and founder of youth charity The Second Mile said: "I could say that I have done some of those things. I have horsed around with kids. I have showered after workouts. I have hugged them and I have touched their legs without intent of sexual contact."
According to the Patriot-News, one alleged victim said the abuse went back to the 1970s, around the time Sandusky founded the charity that prosecutors say was his axis for finding victims.
"They're literally processing it right in front of us," said State College attorney Andy Shubin, who has been working closely with the victims.
"They have kept it from their families, moms, brothers and sisters... The folks we talked to are largely folks in their 20s, who, in a lot of cases, have never told their story before."
Many of the victims haven't decided if they are going to come forward yet, and some cases spanning the past four decades might be too old for viable prosecution, but Sandusky's flippant comments have opened the raw wounds that need to be healed, revealed Shubin.
Article continues below advertisement
"I spent about half the day in kitchens and living rooms, speaking with victims of Sandusky's molestation and processing with them the effects of Jerry Sandusky being on television and Jerry Sandusky denying wrongdoing," Shubin said. "And what I found was that these folks are being re-traumatized."
The sex abuse scandal has such deep roots in the Pennsylvania community that some fear violent retribution from passionate Penn State fans blaming them for the downfall of legendary football coach, Joe Paterno.
"In some cases we're finding that they are hiding in a fairly remote area, they are afraid of being discovered," Shubin said about the people he talked to Wednesday.
Others have already come forward and say they were dissuaded from being honest, he claimed.
Sandusky stands accused of molesting eight boys over 15 years, from 1994 to 2009.
He was arraigned on 40 criminal counts -- 21 of them felonies -- including multiple counts of involuntary deviate sexual intercourse, corruption of minors, endangering the welfare of a child, indecent assault and unlawful contact with a minor, along with single counts of aggravated indecent assault and attempted indecent assault.