Police Say Mike McQueary Didn't Report Penn State Child Abuse To Them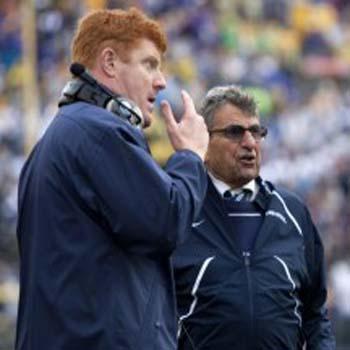 Claims made by a key witness in the Penn State sex abuse scandal are being disputed by police investigating the shocking case, RadarOnline.com has learned.
Mike McQueary told a friend that he had informed the police about Jerry Sandusky's assaults on young boys, but both the university's campus police and the State College police department say they never received reports from the then-Penn State graduate assistant, reported CBSNews.com on Wednesday.
Article continues below advertisement
In an e-mail written by McQueary on November 8, he said he had discussions with police after he said he witnessed a 10 or 11-year-old boy being raped in the Penn State locker room in 2002. McQueary testified in a grand jury investigation that led to authorities charging Sandusky with abusing eight boys over 15 years.
As RadarOnline.com reported, Sandusky stands accused of molesting eight boys over 15 years, from 1994 to 2009. He was arraigned this month on 40 criminal counts -- 21 of them felonies -- including multiple counts of involuntary deviate sexual intercourse, corruption of minors, endangering the welfare of a child, indecent assault and unlawful contact with a minor, along with single counts of aggravated indecent assault and attempted indecent assault.
In the e-mail that was made available to the Associated Press, McQueary claims: "I did stop it, not physically ... but made sure it was stopped when I left that locker room...I did have discussions with police and with the official at the university in charge of police .... no one can imagine my thoughts or wants to be in my shoes for those 30-45 seconds ... trust me."
While he didn't tell his friend which police department he'd alerted, there is no record of any report at either, according to CBS.
Article continues below advertisement
McQueary, who has been placed on indefinite paid leave after receiving death threats, complained to his friend that he felt like he was "getting hammered for handling this the right way ... or what I thought at the time was right ... I had to make tough impacting quick decisions."
As RadarOnline.com previously reported, Sandusky pleaded his innocence to Bob Costas for NBC News' Rock Center in a phone interview on Monday night.