Disturbing Testimony In Jerry Sandusky Child Abuse Trial Brings Jury To Tears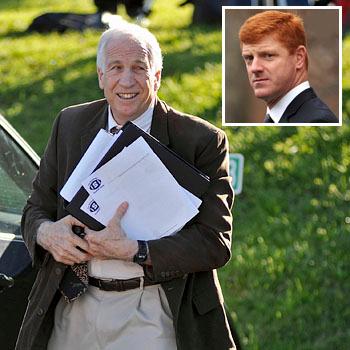 By Debbie Emery - RadarOnline.com Reporter
Shocking revelations and graphic details of sexual molestation filled the Pennsylvania courtroom for the Jerry Sandusky child abuse trial on Tuesday, causing many of the distraught jury members to cry along with the distressed witness.
The 18-year-old, referred to as "Victim 1," openly wept on the stand as he recalled the terror and torment that he endured at the hands of the shamed former Penn State football coach as he allegedly performed oral sex on him when he was just 12.
Article continues below advertisement
After meeting through the summer camps run by Sandusky's Second Mile charity, the boy stayed over at his State College house in a basement bedroom, where the 68-year-old defendant allegedly abused him more than 25 times from 2005 to 2008.
"At first, he would kiss me on the forehead good night," he testified. "Then it came to him kissing me on the cheek, and then him rubbing my back and pulling me on top of him and cracking my back. I kind of thought he sees me as family, and maybe this is what his family does. I didn't say anything. I didn't honestly think it was anything wrong."
Things quickly escalated but the boy was too scared to ask his mentor to stop. "I was embarrassed, confused," he revealed, adding that Sandusky hollered at him and then went to his house and argued with his mother when he tried to avoid him.
Later in the proceedings, high profile witness and Penn State assistant coach Mike McQueary told the jury that he had "no doubt" that he saw Jerry Sandusky having what he believed to be inappropriate relations with a young boy in the locker room showers.
Article continues below advertisement
McQueary claims he busted the coach when he entered the building one Friday night in February 2001 and heard the showers running and smacking sounds - "skin on skin smacking sounds. I immediately became alerted and embarrassed that I was walking in on something."
As he got in closer, he spotted the defendant standing behind a young boy "who is propped up against the shower. The boys hands are against the wall."
The football staffer said he was "extremely alarmed, extremely. Flustered and extremely shocked," as he looked into the eyes of both the alleged molester and his victim, who was "prepubescent, 10 to 12 years old."
After he left the locker room, McQueary told his father what happened, spoke with veteran coach Joe Paterno the next morning, and later with athletic director Tim Curley and Penn State Vice President Gary Shultz.
Article continues below advertisement