Jerry Sandusky's Lawyer Asks For All 52 Sex Abuse Charges Against Him Be Dropped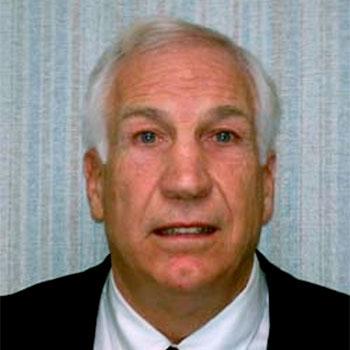 By Debbie Emery - RadarOnline.com Reporter
Former Penn State assistant coach Jerry Sandusky's attorney has requested that a judge dismiss all 52 counts of sex abuse against his client, claiming they were too vague, too flimsy, or happened too long ago to be adequately defended in court.
Joseph Amendola argued that charges involving at least eight of the 10 boys that his client is accused of molesting fell outside the statute of limitations and that others could not be sufficiently substantiated by witnesses, reported the Boston Herald.
Article continues below advertisement
"The defendant submits that his due-process rights will be violated if he is forced to proceed to trial," Amendola wrote to the judge on Thursday. "He cannot adequately prepare and present a defense to those charges."
As RadarOnline.com previously reported, the 67-year-old ex-coach stands accused of molesting eight boys over 15 years, from 1994 to 2009. He was arraigned late last year on 40 criminal counts -- 21 of them felonies -- including multiple counts of involuntary deviate sexual intercourse, corruption of minors, endangering the welfare of a child, indecent assault and unlawful contact with a minor, along with single counts of aggravated indecent assault and attempted indecent assault.
While the latest filing is unlikely to result in the dismissal of the case against Sandusky, it does highlight a number of weak points that prosecutors will have to face when it goes to trial in May.
Another challenge that they will have to overcome is the inability to identify two of Sandusky's purported victims. Though it is possible under the law to prosecute child sex crimes without victim testimony, Amendola argued Thursday that witness testimony expected to support those two cases would not hold up in court.
MORE ON:
Celebrity Justice
Article continues below advertisement
In interviews since the scandal broke, Sandusky has characterized his behavior with the children as "horseplay," and his time with them as "precious" and "significant."
He told the New York Times that while he's attracted to children, it's not in a sexual way.
"If I say, 'No, I'm not attracted to young boys,' that's not the truth because I'm attracted to young people -- boys, girls," Sandusky said. "I enjoy spending time with young people. I enjoy spending time with people ... I mean, my two favorite groups are the elderly and the young."
The scandal has shaken Penn State to its very foundation, provoking the firings of several high-ranking officials for their inaction when allegations of Sandusky's pedophilic tendencies began sprouting up. Most notably, longtime Head Coach Joe Paterno, who has since died from cancer, was canned for a perceived non-response to a 2002 report from graduate assistant Michael McQueary that Sandusky had raped a 10-year-old boy in the Penn State locker room showers.