Spike Lee Settles With Florida Couple Following Ill-Advised Re-Tweet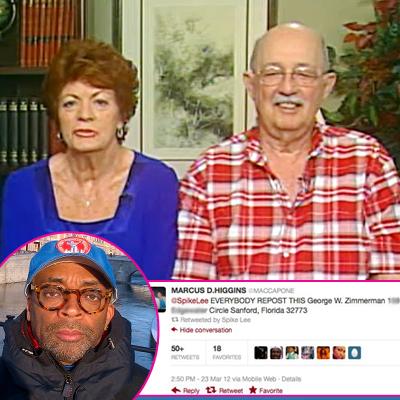 Spike Lee did the right thing.
The Jungle Fever director Thursday apologized and reached a settlement with Elaine and David McClain, the elderly Sanford, Florida couple fled their home after the director re-tweeted their address under the false pretense it belonged to George Zimmerman, the neighborhood watch volunteer who fatally shot 17-year-old Trayvon Martin last month.
"At this point in time, we have come to an agreement with Spike Lee and his attorneys, and at this point, the matter is fully resolved," Matt Morgan, the lawyer for the McClains, said in a statement on behalf on the family. "Spike has agreed to compensate the McClains for their loss and for the disruption into their lives. He's taken full responsibility."
Article continues below advertisement
Lee tweeted Wednesday: "I Deeply Apologize To The McClain Family For Retweeting Their Address. It Was A Mistake. Please Leave The McClain's In Peace."
The tweet induced a flood of negative feedback -- including hate mail, unwanted media inquiries and concern from neighbors -- aimed at the septuagenarian couple, the Orlando Sentinel reported, causing them to temporarily relocate to a local hotel.
Elaine told the AP the X director "was really kind" in their chat.
"When he called us, you could just tell he really felt bad about it," she said. "And it was just a slip, and I just know that he really, really has been concerned."
Morgan told the LA Times, "The McClains were very moved by Mr. Lee's apology. They would like the Lee family to be left in peace."
Elaine, 70, and David, 72, have no ties to George Zimmerman, though the Elaine's son is named William George Zimmerman, and had records at that address when he lived with her back in 1995.