Exclusive
Trayvon Martin Police Investigation Shows 'Racial Bias' Says Civil Rights Group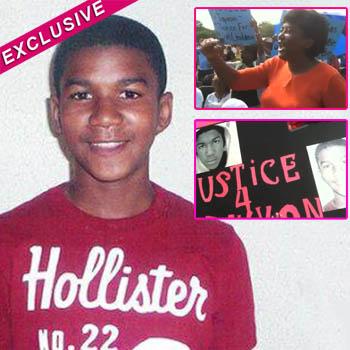 Article continues below advertisement
On Thursday evening, thousands of supporters attended a rally in 17-year-old Martin's home town, where the Reverend Al Sharpton spoke to the crowd while flanked by Trayvon's parents Sybrina Fulton and Tracy Martin.
"We are tired of going to jail for nothing and others going home for something. Zimmerman should have been arrested that night ... you cannot defend yourself against a pack of Skittles and iced tea," said Sharpton.
The American Civil Liberties Union (ACLU) believes that the outpouring of support shows the deep impact of the shocking case.
"It was inspiring to see so many people out calling for justice, but given the gravity of the issues involved, we weren't surprised by the responce," Baylor Johnson, spokesperson for the ACLU of Florida, told RadarOnline.com in an exclusive interview.
"This is an issue that has been under the surface for so long and it is sad that this kind of tragedy has to happen for us to have a serious conversation about race in America.
Article continues below advertisement
"In order to understand why so many people from Sanford across Florida and across the country came out, we have to look at how we got here," he went on to explain.
"There is a tragic hateful history of crimes with clear and undeniable racial motives that have been overlooked or swept under the rug.
"It is clear to us that when the police chief said there was no reason to dispute George Zimmerman's claim that he was acting in self defense that he had already made his mind up about the matter," Johnson told RadarOnline.com.
The ACLU and other civil rights groups took action and called for other law enforcement and federal investigators to look over the shoulder of the Sanford police and examine what happened that day – not just the shooting itself but the police department's response to it.
"We want these outside investigators to look into any deviances from standard police procedure, as well as the attitudes and any possible bias of the police officers."
Article continues below advertisement
When it comes to whether he believes charges should be brought against the shooter, Zimmerman, 28, Johnson said that is up to law enforcement to come to what conclusions they think are fitting.
"We want the justice system to arrive at a just conclusion – we haven't specifically called for an arrest, but if it results in that then it is the right conclusion," said Johnson.
RELATED STORIES:
Prosecutors Subpoena Trayvon Martin's Girlfriend To Appear In Front Of Grand Jury