President Barack Obama: 'If I Had A Son, He'd Look Like Trayvon'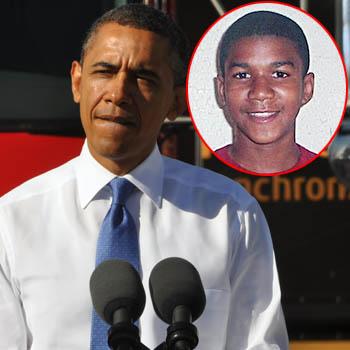 "If I had a son he'd look like Trayvon," President Barack Obama said Friday.
The commander-in-chief made the emotionally-fueled comments in his first public reaction to tragic death of Trayvon Martin, the 17-year-old fatally shot last month in an Orlando, Florida suburb by neighborhood watch volunteer George Zimmerman, who claimed his shooting of the unarmed teen came in self-defense.
Article continues below advertisement
As we previously reported, controversy and tension hovering over the February 26 incident continues to mount, as Zimmerman has yet to face any consequences in connection with the teen's death.
"I can only imagine what these parents are going through and when I think about this boy I think about my own kids," the president said. "If I had a son he'd look like Trayvon. I think they are right to expect that all of us as Americans take this with the seriousness that it deserves and we're going to get to the bottom of what happened."
Watch the video on RadarOnline.com
The president called for further investigation into the incident, which is already being looked at by the Justice Department and FBI.
"Every parent in America should be able to understand why it is absolutely imperative that we investigate every aspect of this and everybody pulls together, federal state and local, to figure out exactly how this tragedy happened," the president said.