Police Chief On Trayvon Martin Shooting Steps Down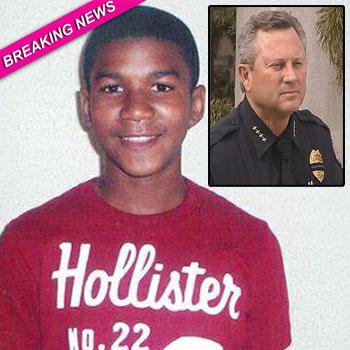 By Amber Goodhand - RadarOnline.com News Editor
The shooting of an unarmed 17-year-old Florida boy has caused such a media frenzy that Sanford Police Chief Bill Lee Jr. has "temporarily" stepped down from his position.
"My role as the leader of this agency has become a distraction from the investigation. It is apparent that my involvement in this matter is overshadowing the process," Lee said in a statement released on Thursday.
Article continues below advertisement
"Therefore, I have come to the decision that I must temporarily relieve myself from the position as police chief for the city of Sanford. I do this in the hopes of restoring some semblance of calm to a city which has been in turmoil for several weeks."
Trayvon Martin was tragically killed by George Zimmerman on February 26 — and his parents have spoken out about the anguish over their son's death citing racial motivation for the killing.
"I just feel as though the Sanford Police Department is doing us an injustice. They actually are trying to sweep our son's death under the rug," Trayvon's grieving father said.
"Trayvon was a person, he wasn't just a statistic, he was loved by his family, he was loved by his friends. I just refuse to stop pursuing the arrest of Mr. Zimmerman until he is arrested."
And although Chief Lee has stepped down, City Manager Norton Bonaparte Jr. assures that the investigation will proceed and justice will be had.
Article continues below advertisement
"What the city wants most for the family of Trayvon Martin is justice," he said.
Chief Lee came under fire because he did not arrest Zimmerman, the neighborhood watch patrol who shot Trayvon, because he claimed self-defense.
Protesters have held rallies in Miami, New York, Sanford and Tallahassee in an effort to get Zimmerman arrested. Petitions have also been floating around social media sites demanding justice.