American Soldier Accused Of Afghan Shooting Rampage To Be Tried In The U.S., May Face Death Penalty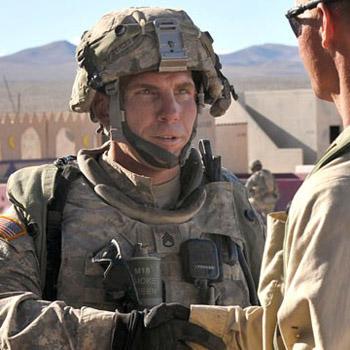 By Debbie Emery - RadarOnline.com Reporter
The American soldier who is accused of murdering 16 Afghan civilians will be tried in the U.S., despite attempts in the victims' homeland to have him face a court in Afghanistan.
Sergeant Robert Bales was flown back to America last weekend and met with his lawyer for the first time on Monday at a military prison at Fort Leavenworth, Kansas, where he remains in pre-trial isolation awaiting charges that may carry the death penalty.
Article continues below advertisement
During a briefing with Afghan journalists on Sunday, a U.S. official revealed that Bales "will be tried in the United States. We have not determined, we are doing some coordination to find out what the final venue will be, but the proceedings will take place somewhere in the United States," reported ABCNews.com.
The 38-year-old has been in military custody since he surrendered following what U.S. officials described as a rampage on March 11 through villages in Kandahar province in which he allegedly shot, stabbed and set ablaze men, women and children.
"If he is brought to trial it is possible that Afghan witnesses and victims would be brought over," revealed the U.S. forces Afghanistan legal expert, who was not named in a military transcript released Monday. "In a complex case like this, there will be a lot evidence to collect and it may take a significant amount of time to collect that evidence," he added.
The Afghan government is conducting its own investigation, and is said to believe that more army members may be involved in the killings, which have fueled tensions between Afghanistan and the US.
Article continues below advertisement
It is believed that the lawyers for the father-of-two from Norwood, Ohio, will base their defense on mental-health problems that may have been out of his control, reported the Wall Street Journal. They point out that Bales served three tours in Iraq and a tour in Afghanistan, and suffered traumatic brain injury as well as a severe foot injury.
"It is too early to determine what factors may have played into this incident and the defense team looks forward to reviewing the evidence, examining all of Sergeant Bales' medical and personnel records, and interviewing witnesses," said a statement by the lawyers, led by Seattle attorney John Henry Browne, whose past high profile clients have included serial killer Ted Bundy and Colton Harris-Moore, the Barefoot Bandit.
"You couldn't imagine a more difficult case, I don't think," Browne said. "This case has political ramifications, it has legal ramifications, it has social ramifications."
Those who knew the former high school football captain paint a very different picture of the man who many in the small Midwest town idolized.
"From the time I was able to walk I was pretty much right at his heels watching what he was doing, being there as much as I could be to learn from him," said former neighbor Michael Blevins.
Article continues below advertisement
Tragically Bales suffered a dramatic fall from grace after he enlisted in the military following 9/11, since which time he did three tours of Iraq, encountered legal issues including a misdemeanor arrest for assaulting a girlfriend in 2002, a reported drunk driving arrest in 2005 for which he wasn't charged, and a hit and run after he claims to have fallen asleep at the wheel.
Watch video about Sgt. Bales from ABC below: