Lizzie Borden: Behind The Legend Of The Bloodied Hatchet & Historic Crime Scene Photos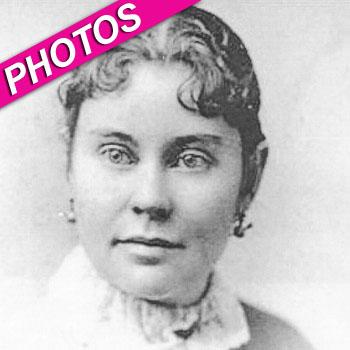 By Debbie Emery - RadarOnline.com Reporter
With never-before seen journals kept by her lawyer coming to light recently, historians are hoping to finally discover whether Lizzie Borden really did brutally hack her father and stepmother to death with a hatchet.
In light of the new developments in the 120-year-old cold case, RadarOnline.com is revealing details of the lady behind the grisly legend, who was acquitted after one of the most notorious murder trials in American history, and who has been immortalized on the screen, stage and even in a children's song.
Article continues below advertisement
"Elizabeth Borden took an ax and gave her mother forty whacks and when the job was nicely done she gave her father forty one," goes the lyrics (which can be downloaded as a cell phone ring tone), but how many kids really think about the bloody truth behind the cheerful ditty?
Born on June 19, 1860, Lizzie led a quiet life in her hometown of Fall River, Massachusetts until a grisly double murder landed her not only in a criminal courtroom, but also into the history books. The then 32-year-old librarian shared the rear part of the upstairs of her parents' house with her sister, Emma -- the two were both spinsters and considered past the marrying age at that time.
In the front of the house lived her father Andrew Borden, and stepmother, Abby, whom Lizzie had an increasingly tumultuous relationship with.
One steaming hot day on August 4, 1892, the family's maid, Bridget "Maggie" Sullivan was awoken from a nap by Lizzie screaming hysterically after finding her father's body hacked beyond recognition while slumped on a couch in the living room. Half an hour later, Abby's body was discovered in a similar state in the guest room upstairs.
Article continues below advertisement
Many believe that it was the graphic and violent nature of the murders that have fascinated followers for more than a century since, and even in the slow news era of the 19th century the story spread like wildfire and newspapers were soon reporting that Lizzie may have had something to do with the murders.
Both sisters had been upset with the way their father divided his property and fortune up between family members before his death, and a vindictive incident in which he chopped the heads off Lizzie's pet pigeons with an ax was seen as a sinister precursor to his own mode of death, according to The Trial of Lizzie Borden by Doug Linder.
A local druggist named Eli Bence pointed the finger of blame at Lizzie too when he revealed that she had tried – and failed – to buy prussic acid (hydrogen cyanide) from him shortly before the murders. Soon after the whole family became violently ill and Abby feared they had been poisoned but no proof was found by their doctor.
Despite no solid evidence, and unfounded theories about a tall male intruder breaking into the house, the younger Borden sister was soon arrested and her murder trial began on June 1893 after she had filed a plea of not guilty.
Article continues below advertisement
One damning piece of testimony against her came from family friend, Alice Russell, who claimed she spotted Lizzie burning a blue dress in a kitchen fire claiming it had paint on it, and Sullivan added fuel to the fire by revealing that Borden was wearing a blue dress on the morning of the murders.
The high profile case whipped up the press and public to a frenzy, on a historic par with last year's must-watch Casey Anthony trial as the prosecution unveiled the skulls of Andrew and Abby Borden on the table during his opening statements, and caused the defendant to have a fainting fit.
Russell testified that Lizzie confided in her that she felt "afraid something is going to happen," explaining that "she wanted to go to sleep with one eye open half the time for fear somebody might burn the house down or hurt her father because he was so discourteous to people."
While public opinion was firmly against her, the prosecution's case was based solely on "marvelous contradictions given by witnesses," said one reporter at the time, and the inquest testimony was so full of contradictions and implausible claims that the three-judge panel deemed it inadmissible.
Article continues below advertisement
It took the jury just one and a half hours to find Lizzie not guilty, a verdict that was praised by the New York Times in the next day's paper, calling the Fall River police "the usual inept and stupid and muddle-headed sort that such towns manage to get for themselves."
The high profile murders remain unsolved to this day and some believe a conviction would have been made if not for the failure of the prosecution, and the disbelief at the time that a woman of Lizzie's background could have pulled off such brutal killings.
Following her release, Lizzie moved into a new home with Emma, until the sisters fell out 12 years later. Lizzie had her gall bladder removed after which she was in poor health for a year until her death from pneumonia on June 1, 1927. She was buried in Fall River's Oak Grove Cemetery by the graves of her parents who many still believe she killed.
Those wanting to discover the Borden crime scene for themselves can book a room at the Lizzie Borden Bed & Breakfast in the original 1845 Fall River home, whose motto is "where everyone is treated like family."