Petit Family Massacre Survivor Faces Killer, 'Evil Does Live Among Us'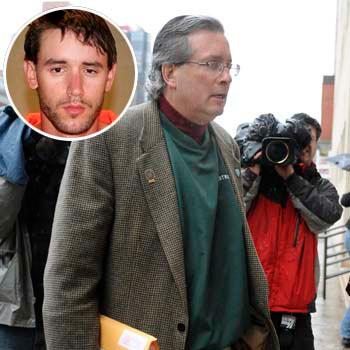 By Debbie Emery - Radar Reporter
The courtroom ordeal for Dr. William Petit is not yet over, as the grieving widow once again faced one of the men who murdered his family.
Petit addressed the New Haven, Connecticut courtroom on Friday during the formal sentencing of convicted triple murderer Joshua Komisarjevsky, reported the Hartford Courant.
As RadarOnline.com previously reported, Jennifer Hawke-Petit, 48, and daughter Hayley, 17, and Michaela, 11, were tortured and murdered in 2007, and Dr. Petit brutally beaten, by Steven Hayes and Komisarjevsky, both of whom have been sentenced to death in Connecticut.
Article continues below advertisement
"Evil does live among us and we need to rid the world of it," Petit told the court. "My only hope is for justice to be served."
Komisarjevsky was handed the death penalty on December 9 for his part in the horrific crime, Judge Jon C. Blue set an execution date for July 20 but an appeal is automatic and mandatory.
"This is a terrible sentence, but it is a sentence you indeed wrote for yourself," the judge explained.
The 31-year-old convicted murderer, who remained mostly silent during his lengthy trial and sentencing phase last year, finally addressed the courtroom. when he once again claimed he never meant to kill anyone.
"They were never supposed to lose their lives," Komisarjevsky said. "The ripple effect of my actions has had an effect on people I never intended to hurt.
"It's a surreal experience to be condemned to death."
Article continues below advertisement
Despite expressing his shame at the pain he had caused his family, his words didn't ring honest to his uncle, Christopher Komisarjevsky, who has been a loyal supporter of Dr. Petit since the murders.
"There was no expression of sorry," he said. "What I heard were excuses from his youth. I believe everyone is responsible for their own actions, and the jury here has made him responsible for his."
In an exclusive interview with RadarOnline.com, Christopher expressed his congratulations to Petit, 55, who announced his engagement to fiancée, Christine Paluf, 34, earlier this month.
"Of course, we wish him the very best," he told RadarOnline.com. "We are happy that he's found happiness after the tragedy."
Also opening up at the official sentencing was juror Tashana Milton of West Haven, who said she was traumatized and suffering from paranoia caused by the grisly details she heard during the trial.
"I wonder if he really feels bad about what's happened," she said, after hearing Komisarjevsky's speech. "I couldn't tell."
Article continues below advertisement
Later in the proceedings, Dr. Petit described the loving family who had been stolen from him by the pair of home invaders. Calling 11-year-old Michaela, nicknamed KK, "a happy girl who managed to get along with everyone. She loved to cook, care for animals, play music, plant flowers and sing.
"I will never again see the twinkle in KK's eyes when she makes me breakfast for my birthday," Petit said.
Hayley, 17, had been accepted into Dartmouth College shortly before she died of smoke inhalation while tied to her bed. "She was a good, kind gentle soul," he said.
Rev. Richard Hawke, Jennifer's father, addressed the man who killed his daughter and grandchildren personally via video.
"Now, you are a prison number listed in the book of death. You are now in God's hands," he said.
Despite having an execution date for this summer, it could be 20 years before either Komisarjevsky or Hayes are given a lethal injection at Northern Correctional Institution in Somers.
As RadarOnline.com previously reported, Hayes has bosted of 17 kills and claims the death penalty will be "a welcome relief."