Petit Trial Closing Arguments Heard: Defense Try To Save Joshua Komisarjevsky From Death Penalty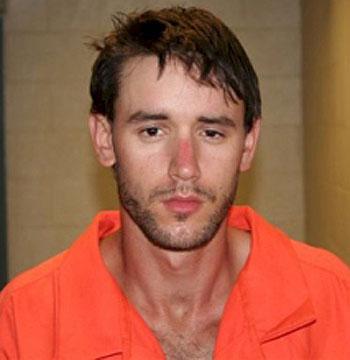 Closing arguments began in the death penalty trial of Joshua Komisarjevsky on Tuesday and jurors were reminded of the horrific nature of the attacks that left a mother and her daughters dead and their father severely beaten.
As RadarOnline.com previously reported, Komisarjevsky is charged with 17 counts including murder, abduction and assault in the triple homicide of Jennifer Hawke-Petit and their daughters Hayley,17, and Michaela, 11, and vicious assault of their father, Dr. William Petit, who were held hostage in their Cheshire, Connecticut home on July 23, 2007.
Article continues below advertisement
When the prosecuting attorney Gary Nicholson took the stand he asked the jury to imagine how Hayley and Michaela felt while they laid tied to their beds with gasoline poured over them.
"Ask yourselves, what terror they felt ... they knew the end was near," Nicholson said to the New Haven court, according to the Hartford Courant.
"Hayley and Michaela knew they were going to die a horrible death. They were screaming for their lives. They were screaming for mercy, and any help they could get."
The attorney told jurors that their alleged killer ignored the girls' screams and pleas for mercy. Both of them died of smoke inhalation in the fire, Jennifer was raped and strangled to death before the blaze was set.
"What did the defendant say he did? He closed the door. … Was he in a situation where he didn't want to hear their screams?" asked Nicholson.
As a trained EMT, the suspect could have saved the girls but "he just had no interest in doing that," he said.
Article continues below advertisement
Along with the sole survivor of the attack, Dr. William Petit, Komisarjevsky's parents, Benedict and Jude Komisarjevsky, and his sister Naomi were present in court.
Nicholson claimed that Komisarjevsky was motivated to commit the home invasion not just by money, but an interest in 11-year-old Michaela (who he sexually assaulted in the attack) after he spotted her in a grocery store shopping with her mother.
He "saw a beautiful young girl, attractive mother, a nice car and he wanted to know more ... he wanted what they had," he said.
"Make no mistake, this intrusion was Mr. Komisarjevsky's idea."
Earlier on Tuesday, Judge Jon C. Blue rejected a request from the defense that the prosecution team should not be allowed to argue theories that contradicted those made in last year's trial of Komisarjevsky's accomplice Steven Hayes, who was found guilty of his role in the killings and sentenced to death.
Article continues below advertisement
A 13-page motion filed by the defense requested the court to prohibit prosecutors from arguing theories of criminal liability that "deviate or diverge" from theories prosecutors proposed during closing arguments in the trial of Hayes, reported the Hartford Courtant.
As RadarOnline.com previously reported, it took just hours for a jury to find the bald-headed Hayes guilty, after which he told the court that, "death would be a welcome relief." He will soon get his wish as he is now on death row awaiting execution.