Petit Family Murder Suspect's Earliest Memories Are Sexual Abuse And Cigarette Burns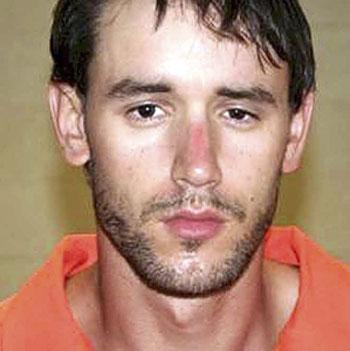 The testimony in the Petit Family murder trial was as grisly as ever on Thursday but this time the acts of torture and sex abuse had been inflicted on triple murder suspect Joshua Komisarjevsky, not by him, RadarOnline.com has learned.
When the defense took the stand for their second day in the New Haven, Connecticut courtroom, the testimony was again from New York University psychologist Dr. Leo Shea, who told jurors how as a 14-year-old the accused killer had carved the word "hate" on his arm because he found self-mutilation "soothing," reported the Hartford Courant.
Article continues below advertisement
As RadarOnline.com previously reported, Komisarjevsky is the second suspect to stand trial in Connecticut's most horrific murder and has been on trial since September 19, charged with 17 counts including murder, abduction and assault in the triple homicide of a mother and her two children, and the beating of their father.
His accomplice, Steven Hayes, was found guilty last year and sentenced to death.
The horrific case revolves around the seven-hour abduction of Dr. William Petit, his wife Jennifer Hawke-Petit and their daughters Hayley, 17, and Michaela, 11, who were held hostage in their Cheshire home on July 22, 2007.
"I hated everything about life. I had been abused and I wanted others to know what it was like to hurt, to lose something. I had so much pain inside and cutting was a way to get at it," Komisarjevsky revealed, according to Dr. Shea's report, which was made after a 12-hour interview with him.
Article continues below advertisement
The report titled 'Joshua Komisarjevsky Cognitive Evaluation,' contains details how a 15-year-old boy named Scott, whom the family took in as a foster child, sexually and physically abused him from about the age of 3 until 6.
"My earliest memories were of anal sex, oral sex, cigarette burns, etc.," Komisarjevsky told Shea, according to the report.
Now a cold-hearted 31-year-old, he revealed how his parents tried to get help through their church and "got the elders to put their hands on me, to cast out sin, to heal me. I was so scared and felt smothered, I felt desperate to get out of that circle of people."
He was taught bible studies at home "to exorcise the demons within. He was seen by pastors and church counselors to help him deal with his perceived sinful nature,"
Having claimed that the Petit murders were a home invasion gone wrong, the suspect said he started casing out his neigbors' homes at the young age of nine.
Komisarjevsky would leave his home late at night and wander in the woods near his house "monitoring houses and the activities therein for curiosity," according to the report.
Article continues below advertisement
Like many victims of sexual abuse, the defendant turned to drugs to heal his mental wounds. In 2000, he began experimenting with marijuana and alcohol but then graduated to heavy drugs including crystal meth, LSD, cocaine, crank and prescription medicine.
While Dr. Shea admitted that one out of three females and one of six males is sexually abused and it doesn't necessarily lead to criminal behavior, "it predisposes him to it," he told the court.
The psychologist went on to say that Komisarjevsky is very bright but has deficits in other areas, including the completion of tasks and when it comes to taking risks, he also "overvalues" himself and his abilities.
"He had a narcissistic belief in how smart he was," Shea said.
Dr. Shea was the final witness in the trial, and after his testimony the prosecutors did not call any rebuttal witnesses, and jurors were sent home. Dr Petit walked quietly out of the courtroom holding hands with his sister, Johanna Petit Chapman.